Koblenz, derived from the Latin word for "confluence" – appropriate since it sits on the banks where the Mosel River merges with the Rhine. With a history dating back to 8 BC, it is officially the oldest town I have been in to date. (I learned later that Mainz originated in 13 BC, I just didn't know when I was there that it was actually the oldest!)
We had about a 1.5mi walk from the train station to the hotel, which sits on the Rhein. That's 2 hotels in a row on this river.
Sites today:
Deutsches Eck – German Corner – a tribute to Emperor Wilhelm I on a triangle of land at the confluence of the rivers. The statue was ginormous as Dan said, and a  great view. While the line where the rivers meet is not the same as the dramatic difference you see where the American meets the Sacramento, you could still see it – the Mosel more brown, the Rhein more green.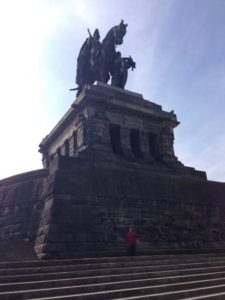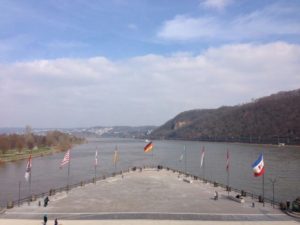 Ebrenbreitstein Fortress – a 200 year old fortress sitting on a hill overlooking the river valley. A big, spacious complex made of stone, with requisite cannons and lookout windows. A gondola ride over the Rhein took us there and back.
Old Koblenz and the shopping district – highlighted by the 800 year old St. Kastor Basilica. Typical gothic arches, atypical colorings – bright colors against cream backgrounds made it look more Latin than German. A couple of quaint town squares encircled by quainter shops and restaurants, and a thriving pedestrian shopping district as the neighborhood got more modern. One of  the squares had a very interesting fountain commemorating the town's 2000 year anniversary in 1992.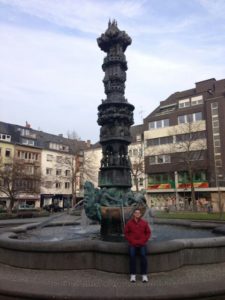 Today we saw a fortress. Tomorrow we see a palace and a castle. When we were researching this trip, we learned the distinctions, which roughly are:
Fortress – protects something, in this case a town
Castle – a fortified residence of nobility or royalty
Palace – an un-fortified residence of royalty
And there you have it :)
Today's general observation – I actually thought this yesterday but Dan commented on it earlier today, and every meal we had made us wonder more:
Germans clearly love their baked goods, evidenced by a bakery of some kind on nearly every corner, in 3 out of 3 cities so far.  And yet, as I mentioned the other day, little obvious obesity. And meals laden with noodles and fried breaded things (I finally had schnitzel for lunch today). And then at dinner, what did the waitress bring with the bread instead of butter? Pork fat. No kidding. Think bacon grease with tiny scraps of lightly fried bacon in it. I literally laughed out loud when she set it down, and by the amount in the dish these folks must slather it on. Dan was appalled. I was like "now I know where my mother got some of her ideas." And still, everyone is trim. How do they do it?
Enter your email address to subscribe to my blog, which will provide notifications of new posts. Soon after you enter your email address below, you will receive one to confirm your subscription. Check your spam/junk folder if you don't see it.