We were both so tired last night from a week or more of 7 miles a day on foot on average we decided to take it easy today.
We slept in and finally got going around 10:30am. To be nice to our feet, see other parts of the city, and live like a local for a day, we bought a 24-hour public transportation pass. We used it on the tram (streetcar), but you can use it on the bus or metro (subway), too. We used it for most of our transportation today, and at the end took some extra rides just to see areas we hadn't been in yet.
We discovered they were very comfortable and the windows were huge! This was taken from the rear:
We got off to go to the Jewish Historical Museum. We didn't know until we got there it included a Portuguese Synagogue from 1675, still in use.
The synagogue itself (as opposed to the annexes where kitchens and office are) has no electricity. Notice the candle chandeliers, which provide the only light source.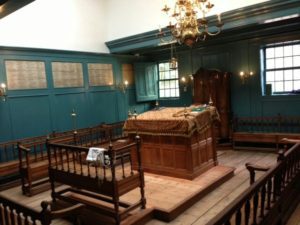 This room was originally only used as a seminary. After World War II, the congregation was so small they used this as the synagogue for many years.
There were a lot of smaller rooms where we learned about kosher food and preparation, mikveh, shofars, and mourning rituals.
The small room where the candles and candlesticks are stored. It takes 2 hours for one person to light the candles on the first floor, and 3 hours if doing the ladies gallery, too.
Next was the Jewish Historical Museum across the street. It was housed in a synagogue built in 1671 and used continuously until after WW II when the community was decimated and the building eventually boarded up. In the 80s, the relatively few Jews who were still in Amsterdam were concerned about the developing white supremacy groups at the time. The synagogue was restored and turned into a museum in 1987 in part in response to that, to help remind the world what happened so it wouldn't happen again.
There were over 100,000 Dutch Jews before the war. While Anne Frank's story of hiding is the most famous, over 25,000 Dutch Jews went into hiding. About 18,000 of those survived. Only 22% of all Dutch Jews survived the war.
There were about 80,000 Jews in Amsterdam before the war, and less than 5000 after. Today, there are about 45,000.
This museum went into a lot of detail about what brought Jews to Amsterdam during the Golden Age of 1650-1750, with the ups and downs leading up to the war, and the after effects. It took the personal foundation we got at the Anne Frank House and expanded it.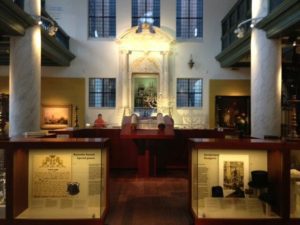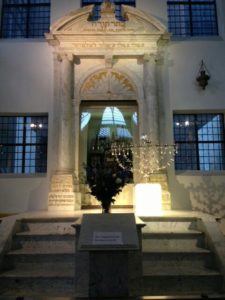 After lunch, we went to the Dutch Resistance Museum. We found this as absorbing as the WW II museum in New Orleans last year. This was similar in the level of detail, variety of perspectives, and mix of media used. Our understanding was expanded yet again. You really got a sense of how everyone in the Netherlands was impacted by German occupation, not just the Jewish perspective, although that was the most horrific.
Some things I did not know:
The Dutch had created a German refugee camp, Westerbork, for Jews escaping persecution from the Nazis. Shortly after the German occupation it was turned into a transit camp, a holding space for Jews waiting to be shipped to concentration camps. (Now that's ironic – not a black fly in your Chardonnay…)
Jews weren't the only ones who went into hiding.  Thousands of non-Jews ignoring orders to work in German labor camps also hid, as well as hundreds who were part of the Resistance, working secretly with the Dutch monarchy who had been based in England since the Occupation, and, among other things, arranged secret financing networks for those in hiding. It takes a lot of money to hide 30,000 people.
At the beginning of the Occupation in 1940, many of the Dutch saw it as just the next step in the way things were going across Europe. So little changed, they initially thought it wouldn't be that bad. The Nazis were subtle in their approach at first in the hopes of bringing the people along. Orders were followed without much question, including registration and ID carrying requirements. It wasn't until they started rounding up the Jews in 1942 that the reality started to take hold and the Resistance movement grew stronger.
While many American families were significantly impacted by this war, today's visits made it abundantly clear that what was happening in Europe was a completely different kind of terror.  I'd always known that intellectually; it was beneficial to get closer to it.
It was a good day of learning and reflection.
Enter your email address to subscribe to my blog, which will provide notifications of new posts. Soon after you enter your email address below, you will receive one to confirm your subscription. Check your spam/junk folder if you don't see it.