We are definitely ready to come home, especially Dan who came out 6 days ahead of me for work. And, he just learned he will have to work in Gent on Friday, but that's instead of having to extend his stay into next week. Definitely better than that. It means I will do Brussels by myself, which is fine; I feel bad that he hasn't really been able to disconnect from work much this trip. And at the same time, grateful that that hasn't been an issue in my job at all.
We did so much yesterday there wasn't much left to see. After breakfast in the hotel, we went to Belfort to climb the 366 steps to the top of the belfry. After 533 steps in the Cologne belfry this was a snap! It was a spiral staircase, of course, only with a literal twist: it would be clockwise, then suddenly counter for a bit, then clockwise again, an  then change one more time.
Have I mentioned how much Europe likes spiral staircases? They are the rule apparently, not the exception. Even the staircase in our hosts home in Amsterdam was spiral. He was an architect – so I asked him about that. Was it to save space? Yes, he said, they take up less space, but mostly we just like them. Alrighty then! Since you can't get furniture up them, you either assemble yourself – the appeal of IKEA made sense for the first time – or hoist up through windows. We saw lots of furniture hooks in Amsterdam, and today we saw an outside ladder with a lift on it taking things up to a 3rd floor window. Do we have this stuff in America and I just never noticed?
Anyway, I digress. Belfort: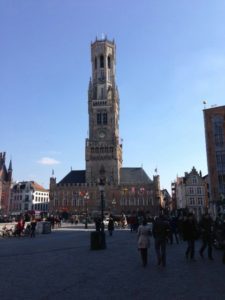 There was a market going on in the square and we perused that for a bit after. Always fun to see what the locals buy.
That was the last of the "must-do's", and we went to the list of "maybe" and "if we get around to it". Bruges is full of drive-by things to do that may or may not be interesting to you, but don't take very long. I list them here for our own memory but most are not worth writing about:
Chocolate museum – the most interesting on this list, and of course there were samples!
Lamp museum – I kid you not. The only reason we went was it was in the same building as the Chocolate place and came with the pass we were using. We were the only ones in it!
Fries museum – as in Belgian. History of the potato and how to make Belgian Fries. No samples, but we had lunch here and it was decent.
Folklore museum
A two room place about a local poet, Geselle.
Lace museum – only because it came with the next one
Jeruzalemkerk – this was not on our list, we stumbled upon it and are glad we did. It's a family chapel modeled after a church in Jerusalem, which also serves as the family tomb. We've seen a lot of churches on this trip and this was the most unique.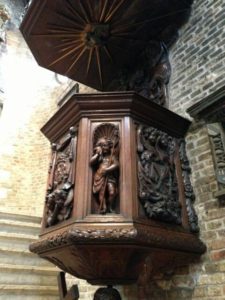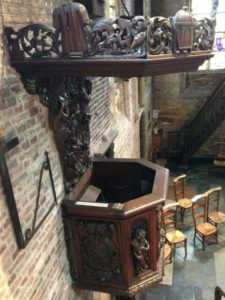 We went back to the room to rest and clean up, and had the best meal of the trip for dinner at a country French restaurant. It was in an alley and worked by two sisters. 18 people capacity. Every table but one was reserved and that filled early. It was a lovely dinner. Dan had cassoulet and I had sea bass. Both were excellent. With coffee and dessert of course.
We will spend the day Thursday in Gent and our last two nights in Brussels. Home on Saturday.
You know you're tired when you're looking forward to being immobilized for 12 hours on a plane.
Enter your email address to subscribe to my blog, which will provide notifications of new posts. Soon after you enter your email address below, you will receive one to confirm your subscription. Check your spam/junk folder if you don't see it.