The hotel owner in Bruges (Paul – we found his place on PurpleRoofs.com, too) honored our request for an early breakfast and we left at 8am to catch a bus to the train station. While we had walked the almost 2 miles on Monday, it was a bit of a hassle with the luggage. Plus we were tired!, and we knew it would be a long day and wanted to save time and energy.
Our next stop was Gent. Dan had been there several times for work (to return the next day, 4/5/13, for work again…while on vacation…*sigh*), but had never had the opportunity to do much other than work. Since it's on the way to Brussels from Bruges, we made a somewhat last minute decision to get to Brussels later than we'd originally planned and spend some time in Gent.
The train ride was just about 30 minutes. (Seems like you can get to many other places in Europe in just 30 minutes by train!) We checked our bags into a locker and walked the 2 miles or so from the train station to the Centrum. We found the visitor's office and got a self guided Walking Tour that served us just fine, and started right outside that spot.
So first a little comparison between Bruges and Gent, from our perspective, that will likely horrify a few folks who are very fond of Bruges. When we were planning this trip, we went back and forth between these two in terms of where we were going to spend decent time. After carefully considering the recommendations of several different friends, and Rick Steves (the travel writer if you don't know that name), we decided to stay in Bruges, and the place we wanted to stay had a 3 night minimum so we went with that because we knew we would lose a big chunk of the day that first day in train travel from Amsterdam, so that would still give us two full days. So the plan was: 3 nights in Bruges, 2 nights in Brussels, and we threw the Gent stop in later.
If we were doing it over again, we would stay 2-3 nights in Gent, 2-3 nights in Brussels, with a day trip to Bruges. Bruges was beautiful, interesting in a learn-what-kills-a-city sort of way, and yes romantic. But oh-so-touristy. More like an amusement park from that perspective. It's a town that gets by completely from tourism. There's not really a "local" vibe there. In fact, the locals we talked to really, Really didn't like living there, because it was so touristy. And a big part of our pleasure in traveling is getting a local vibe, a feel for how does one live in the place we're visiting, and from that perspective this wasn't a good place to do that. It's like Main Street, Disneyland, only with a population of 120k, and of course a lot older.
Gent, on the other hand, had more of the energy we were looking for. It's a fully functioning city of about 250k, plus it has old beautiful buildings just like Bruges did, and perhaps more. The belfry is also a UNESCO World Heritage Site (that's now 6 on this trip). We loved the churches – cause we couldn't seem to get enough on this trip – and one for sure was up there with the prettiest we'd seen on the whole trip.
We started with – yay! – visiting another castle. This one was completely different than the first we saw in Koblenz. For one, it's right in the middle of everything, you turn this corner and suddenly: Castle. And it's older, dating back to 1180. It's function was more fortification, less residence, where the first was the other way around. But we enjoyed it. Here are some pictures from that visit.
Right away, you get that "old and authentic" feeling when you approach this thing.
And it's still friggin' cold, can you tell?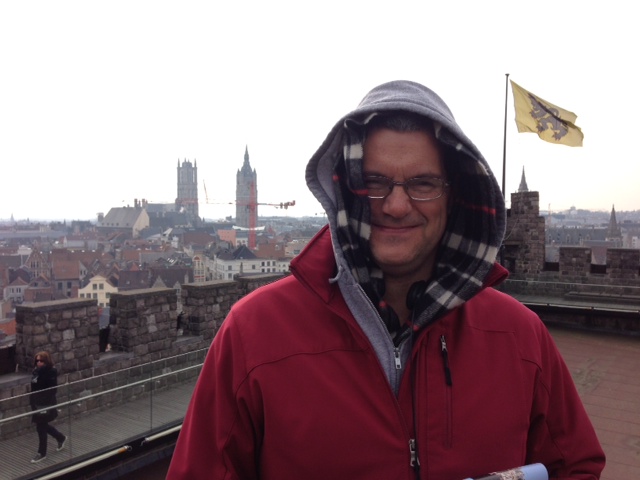 Some of the Gent skyline from the "fortress" part on the roof of the castle.
They had a cool weapons room. This suit of armor was intricately engraved.
A view of the square below from the little lookout window at the top.
Guillotine!, last used in 1861.
Just some of the old weapons on display.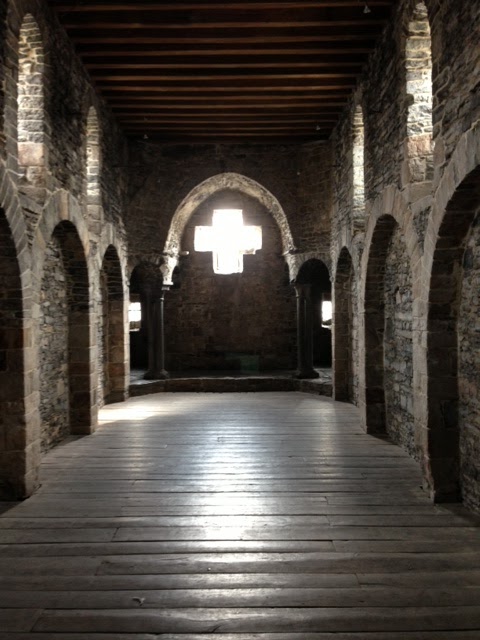 This was used as a chapel.
Basement? Dungeon? It was sorta underground.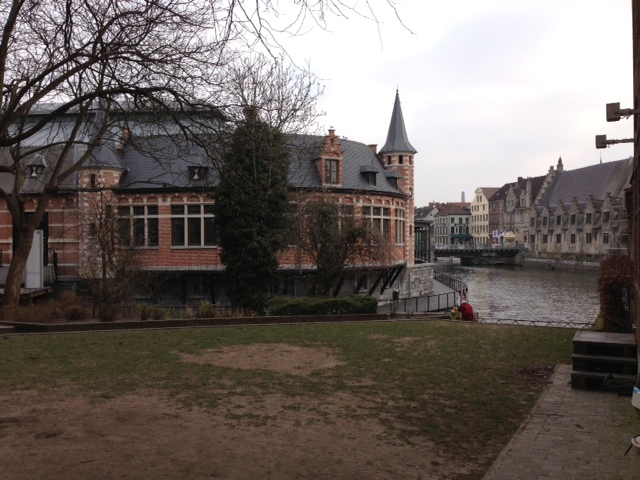 A little park as we continued the walking tour, next to a little restaurant where we had lunch.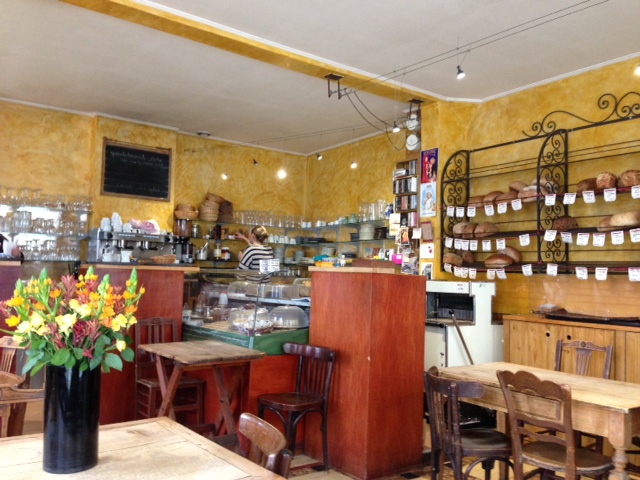 It was adorable, and had possibly the best onion soup we've ever had. Dan had a pasta dish he really liked and I had a local favorite – Flemish Stew, a beef dish in a rich, dark brown gravy.
There wasn't any place to sit at first, then we noticed the people at this table vacating, so we snagged the best spot in the place.
The canal view from the St. Michael's bridge. The walking tour said "many tourist guides describe this as one of the most beautiful cityscapes in Europe." That statement incorporates this and the next three pictures. What do you think?
Also from the St. Michael's bridge.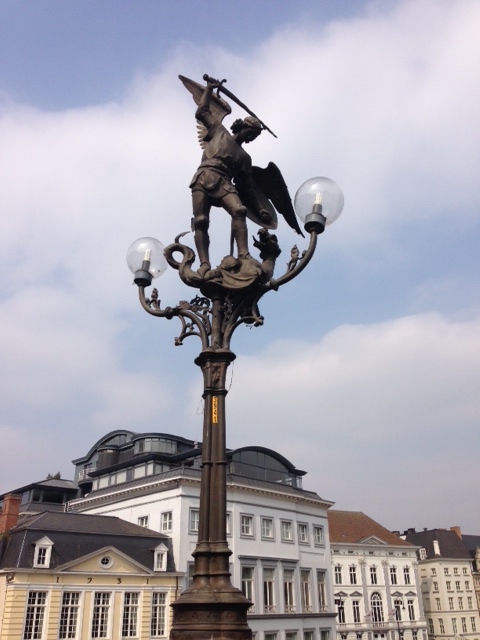 Lamppost on the bridge.
The Belfry. Since we had already climbed Cologne and Bruges we passed on this. Like the castle, this was built in 1180; UNESCO deemed it a World Heritage Site in 1999.
There are a bunch of churches in the Gent Centrum. Dan went crazy with pictures, but I'm only going to include some from the most impressive – the St. Bavo's Cathedral. The contrast of dark wood and marble was stunning.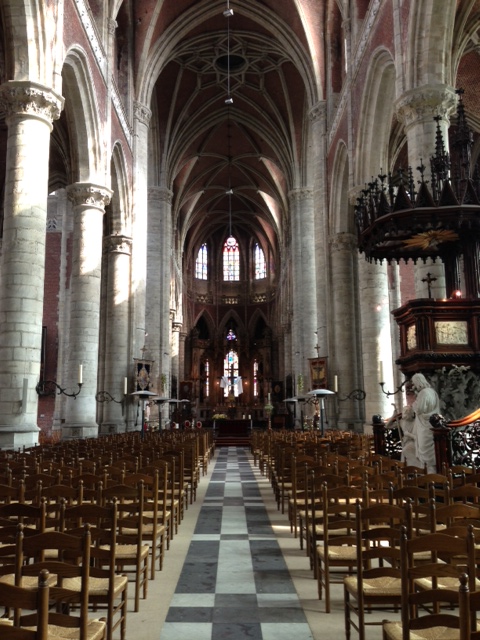 This is not St. Bavo's and I no longer remember which church it was. But it's a good shot of a couple of things I wanted to point out: 1. The chairs. That's what we saw in every church in Belgium and Netherlands, where in Germany the churches all had traditional pews. I guess the Dutch don't kneel! 2. The pulpit. That's that thing on the right in the middle of the church. The priest climbs the stairs and delivers the sermon from there. The picture below is a closer shot. We saw these in just about every church we went into. I've never seen one in America that I can recall.
These are original pillars from the 1100's in the crypt, where archbishops are buried.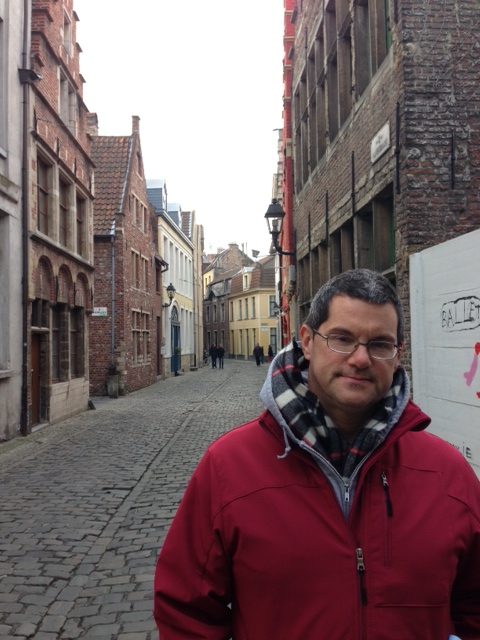 A little neighborhood we walked around that had that look I love with the narrow streets….
And that's enough of Gent. We have more pictures but I think you get the idea! We did really enjoy this city, and today gave Dan an interesting perspective compared to what he'd seen before, including walking by one of the hotels he's stayed at. He had no idea he was so close to everything we saw today when he was there. We took the bus back to the train station, collected our luggage and went on to Brussels.
Dan's work colleagues had influenced our decision to minimize our time in Brussels, that it's mostly a big city, known as "the capital of Europe", but there isn't much to see as a tourist. We disagreed almost as soon as we walked out of the train station, because we really like hanging out in really active places and that's clearly where we were. I got a NYC vibe right away, although this is much smaller than that. Dan will likely find a way to spend some more time here on one of his trips back.
We were making our way to the townhouse we're staying in, a single-guest bed & breakfast in the home of a gay couple, Erik and Sven, also found on PurpleRoofs.com. We come across a little square where there's a lot of activity, including some street musicians on a random Thursday afternoon, and Dan's like "hey, this is very cool so far, I wish we were spending more time here." We keep walking through this narrow street, and at the end take a right into another square. And stop dead in our tracks. Our jaws dropped as we stared at what we decided is the most impressive and beautiful square we'd seen on the whole trip: Grote Markt, or Great Market, all of it built around 1669 and also, we learned later, a UNESCO World Heritage Site. That makes #7 for this trip. Here are some pictures of the that square. They really don't do it justice.
We made it to the townhouse and were greeted by Sven, who was very gracious, offered us coffee, gave us a very useful tourists map of the central area, and made several suggestions for restaurants and other places of interest. The decor of the townhouse was, well let's just say not our style. It was very stylistic, not exactly comfortable, a good example of form over function we thought. Our hosts, however, were very nice and we enjoyed visiting with them here and there the next couple of days.
We'd gotten to their place around 5:15, and left around 6:45 to explore a bit before meeting some folks for dinner at 8:30 for dinner. A friend of mine had suggested we get together with her friends while we were in the neighborhood, so we did. (Thanks, Michele!) Their names are Erwin and Yannick. Right away, we knew it would be interesting. Erwin had said in his email as we were finalizing plans, "You'll probably notice us quite easily: a Caucasian/Asian gay couple isn't very hard to spot." We were like "hmmm, what a coincidence." Erwin, on the right below, is an MD working on a PhD; Yannick, on the left, is in HR. Funny, right? (If you missed that: Dan has a PhD, I'm in HR; it's like they were this reverse mirror image of us…)We had a great local meal – this time Dan had the Flemish stew – and lively conversation. It was fun!
For those of you who have never met Dan before, you were probably starting to wonder if he is real! But here he is, between Yannick and Erwin. He doesn't like his picture to be on Facebook or anything like that, but I got him to agree to just one in the blog. So that's it :) He doesn't think he's very photogenic. What do you think?
Enter your email address to subscribe to my blog, which will provide notifications of new posts. Soon after you enter your email address below, you will receive one to confirm your subscription. Check your spam/junk folder if you don't see it.