We had breakfast in the apartment, got an earlier start because we wanted to get to Anne Frank close to when it opened at 9am, and we did. There was already a line, but not nearly as bad as the first one we saw yesterday afternoon. It moved pretty fast.
Brochures and audio guides all came in 3-12 languages depending on the content and medium and we were happy to see how predominant English was used so we didn't miss anything.
Most of you know the story: a very personal experience of Nazi occupation as told by a teenage girl who went into hiding with her family. Lots of things moved me as soon as I walked in – I was teary pretty much the whole time – so I will stick to highlights:
Anne Frank was born in the same year as my mother, 1929.
The bookcase that hid the entryway to the secret annex is still there for you to walk behind; those first steps up the steep staircase set the tone for where you're headed.
The rooms are probably bigger than you imagined if you read the book, but you also get how they got smaller each day while 8 people hid in them for 2 years. Three of them were in their teens. Can you imagine being perfectly quiet and under threat everyday when you were 16? Or any age for that matter?
No one knows who betrayed them and tipped off the SS.
The father, Otto Frank, was the only one who came out of the concentration camps alive. That's a whole different kind of survivors guilt. He was surprised at the content of Anne's diary. He thought he knew her but hadn't known about her feelings, opinions and perspectives until he read it after she was gone. He committed to getting it published as a reminder for the world. The first Dutch printing was in 1947 and it's been translated into 78 languages.
Her dream was to become a famous writer.
This was the thing I was most looking forward to in Amsterdam. I wasn't disappointed.
Short version of the rest of the day: 2 big exhibits at the Hermitage museum.
Van Gogh – the reason we went. The Van Gogh museum is closed until May but much of the collection was moved here during the renovation. It was about what we expected but were glad we went. I knew he had killed himself but didn't know he was so young when he died – 37 – and had only painted for 10 years.
Peter the Great, Russian Tsar from 1682-1725 – we went since we were there and it was covered by the Kaart. It was very interesting. He was a fascinating character, traveled a lot to learn whatever he could to take back to Russia. He had a high regard for all things Dutch, and in later generations there are some unions of Dutch and Russian royal families.
We took a new route home and happened across the most diverse street yet: within a couple of blocks there was a Chinese, Japanese, Thai, Portugese, Malaysian, Indonesian, German and of course an Argentinian restaurant (because there's one of those on every street it seems).
We picked up some things at the market and had dinner in the apartment.
Random pictures:
The Amsterdam History Museum yesterday emphasized Amsterdam's experience in the pursuit of liberty, etc., discussing gay rights, drugs, prostitution, etc. In that, we learned the first pot place was named after the Donovan song "Mellow YellowYellow" and we ran across it today in our travels today.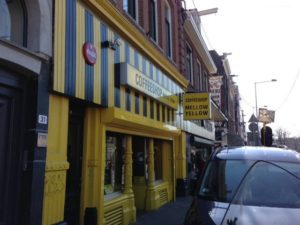 Before making plans for this trip, I did not know that in Amsterdam, "coffee shop" is a euphemism for a place to publicly buy and smoke weed. I learned that reading comments on TripAdvisor.com. If you want actual coffee, go to a cafe. (That I didn't figure out until I got here.)
Enter your email address to subscribe to my blog, which will provide notifications of new posts. Soon after you enter your email address below, you will receive one to confirm your subscription. Check your spam/junk folder if you don't see it.