We left London early Saturday morning on May 24. And I mean early: out of the flat by 5:30am. We took a bus then the subway to Heathrow for an 8:30am flight to NYC. This was our 3rd time in Heathrow on this trip and I still didn't take any pictures of the lounge! We had breakfast there and boarded shortly after we got there, although there was enough time for Dan to take a shower.
You can tell how early it is by the completely empty subway!
The New York City stop was part of a strategy to manage jet lag. We would have had a layover anyway, we just decided while we were here we'd make it a really long layover, play some in the Big Apple, and ease our way back into our regular time zone. We landed in NYC about 11am Eastern at JFK. Getting from the airport to the hotel took awhile. The airport trains took us to Jamaica Station, and from there we took the E subway. We quickly learned once we departed that this wasn't going to drop us as close to the hotel as we thought, but we were committed at that point so just rode it out.
It dropped us at 42nd Street and 8th Ave. We were staying at the Grand Hyatt next to Grand Central, which was at 42nd Street and Lexington. Technically this was only 6 blocks, but in this direction they were the long NYC blocks, not the short ones. (If you've walked Manhattan before you know what I'm talking about!) And, we'd completely forgotten that it was a holiday weekend, but were reminded of that as we navigated the ridiculous crowds on a Saturday afternoon around Times Square. We had contemplated the thought of seeing a show that evening, but were wondering if we'd be able to stay awake through it. The throngs of people made our decision for us. We just glanced up Times Square as we crossed Broadway and were like "no way."
By the time we got to our room we decided we were hungry so turned around and went out again; it was about 2pm by this time. (Yes, despite the 11am arrival, everything took a long time! I wasn't even off the plane yet by 11:20, and the subway ride took over an hour…)
Yelp found us a place called Udon West not too far from the hotel. We took a left up Lexington right into an open market with the street blocked off. I didn't realize they did this in NYC. It was probably 6 blocks long. Not a ton of variety – mostly food vendors and crafts stuff. Lots of gyros and grilled corn. The restaurant was on 46th and we found it easily. Nice hole in the wall Japanese, it was nice to have good old Asian food again! (Europe has lots of Asian food, it's just incredibly expensive there for some reason, plus we try to find things we can't get at home.)
While playing around with Yelp, Dan realized NYC had a Koreatown down in the low 30's, something else we didn't know, and we decided we would go there for dinner later. We wanted to walk in Central Park, which starts at 58th. Even though those are the short blocks in that direction that's a heckuva lot of back and forth, and we'd left the Metro cards we bought at the airport in the room. So we went back to the room to get those and use the free coffee coupons the hotel gave us. We'd walk to Central Park and hang out there for awhile, then take the subway down to 32nd, then walk back to the hotel. That was the plan anyway. Didn't quite turn out like that!
On our way, we stopped in Grand Central Terminal (when did they change it from Station?), which neither of us had been in before. And you know how we love train stations :) This was definitely grand!, and mall-like like some of the bigger ones we've seen in Europe.
This was in the lobby of the hotel. He's easily 15 feet high. Dan was like "how did I miss that when we walked in?" I had no idea. There was another one over by the reception desk!
We got our cards and coffees and walked up 5th Ave. I do enjoy the window shopping even though I would never buy anything. We stopped at The Plaza for a quick photo opp. Dan has a $10 print of this from the last time he was here – over 20 years ago – hanging in our bathroom; it looks pretty good.
There were crowds of people coming out of Central Park. I don't know if we had just missed something that was letting out but it was a flood of people crossing 58th in our direction. But, by the time we actually got into the park it wasn't that bad. I've only been there once 3 years ago and had forgotten how beautiful it is. I love all the natural rocks and cliffs amongst the trees. And Dan kept saying "hey look, that's where they filmed (fill in the blank)." It's got to be the most famous park in the world.  We were happy to be there and just enjoying watching the people and the various performers.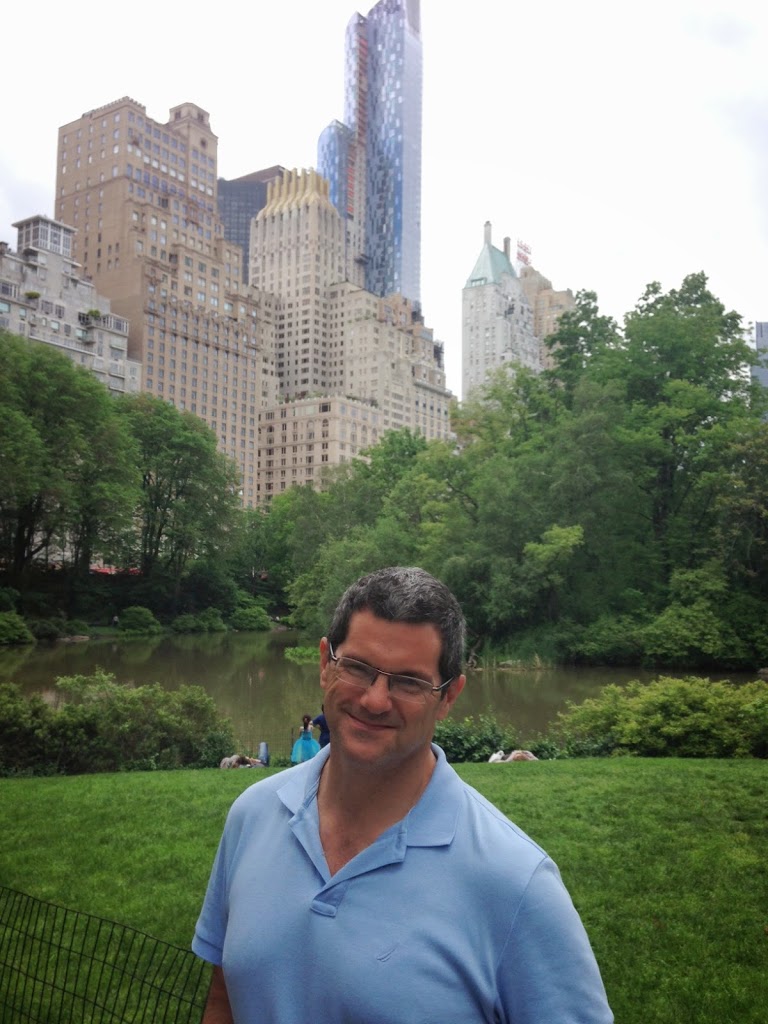 I don't think that tall building in the back was there the last time I was here. Anyone know what it is? It would be around 7th Ave and 58th.
I've always loved the high-rises that line the park.
And then, out of nowhere, rain. Lots of it. We'd stopped to watch a street magician putting on a pretty good show with a pretty good crowd around him, and just as he was finishing the big drops starting hitting. We should've picked up the umbrellas when we got the metro cards! But we'd checked the forecast and thought we were OK. As we were running for cover Dan's like "hey, this would be a good shot – and there's no people." So here's me looking like a drowned rat but sure enough, it's an empty Central Park behind me.
And where were all the people? Well about 70 of them were standing under the same bridge we found. We hung out there a good 20 minutes while Dan was checking Doppler on his phone. Most of the people had decided to brave it by then, it had slowed some but wasn't going to stop completely. But, somewhere along 5th Ave, a nasty cold set in for me out of nowhere; I'd even lost my voice (which, over 48 hours later when I'm writing this, I still haven't gotten back). So we were trying to keep me out of the damp cold. But there was no way out and we were at that point more than 20 blocks from the hotel.
Long story short: after spending some time in an Apple store with lots of other people trying to get out of the rain, we hopped on a bus and went back to the hotel. It was about 5:30 at that point and we decided we were just done for the night. Whatever hit me hit me hard and I was not going to be fit to do anything else. Later in the evening we went to the food court in the train station and got me some soup for dinner; Dan wasn't hungry. I was in bed before 9pm.
And that was how we ended our amazing vacation :)
Sunday morning we flew back home, landing in SFO; rented a car and were home by 3:30. And no matter how glorious a trip like that might be – and it was – there really is nothing like being home. We unpacked, started laundry, and went and got pNut from Art & Mike's.
Some final musings from this trip:
1. Once again, we never encountered any real language barriers. We are so lucky that English is such a major language, at least in Europe. Most people we encountered could speak a little, or had someone on their team who could and they would get them for us. That happened twice – once in a German restaurant, once in a French restaurant. Still, knowing some of the language would be even better. I was supposed to learn some French before this trip but with work and school I couldn't really dedicate the time to it. But I'm almost done with school so I should be able to fix that for next year.
2. We expanded our perspective on what WWII was like in Europe, and always appreciate that. It makes me realize how much I've taken for granted living in this country. And we definitely got a sense of how much France and England in particular love Americans – we are the heroes who brought victory to WWI and WWII which they couldn't do on their own. They suffered unbelievable losses, especially in WWII. There's a picture of Hitler in front of the Eiffel Tower that gives me chills every time I think about it. It was all just so wrong. And Americans had our losses as well, as we saw in the American Cemetery in Normandy as an example. Timely stuff to muse on since it's Memorial Day today.
3. Our travels give us a different sense of the world then we had before, for sure. There are many differences to take in and we seek them out. But we also seek out "normal", what would it be like to actually live there? And in doing that, there's something I noticed both last trip and this trip that's hard to put into words, but it goes something like this: despite the differences in culture, habits, food, language, etc., if you just sit back and watch, what you see is that they're all just people. You see lots of the same stuff you see at home: some are incredibly generous, some are incredibly self-centered. People go to work, stop at the favorite coffee shops, walk their dogs, jog, go out to lunch and dinner with friends and family. Most people are friendly when you engage them nicely. All areas have homelessness to some degree. And toddler tantrums are a universal thing. (For Dan: "But it was supposed to be MY day…") I guess my point is there's this place where none of it feels foreign to me at all from the perspective that in the day-to-day we really are all a lot alike, and for some reason that always surprises me. I'm sure that perspective will shift again if I were to go to the Middle East or Africa; one day we'll find out maybe.
But for now, we're dedicated to Europe while we can take advantage of attaching a vacation to a business trip of Dan's. Next year will be Madrid, Barcelona and Lisbon. Better start brushing up on my Spanish…
PS: This year we used AirBnB for all of our lodging. In Paris and London in particular, these apartments really gave us a local feel, way much more than we'd ever get from a hotel experience. All of our hosts were gracious and helpful. And the AirBnB system is very easy to use, and takes steps to verify and protect the identities of all parties. We will definitely use it again. Check it out if you haven't and have an upcoming trip. We highly recommend it.
Enter your email address to subscribe to my blog, which will provide notifications of new posts. Soon after you enter your email address below, you will receive one to confirm your subscription. Check your spam/junk folder if you don't see it.