I was telling Dan this morning that this past Tuesday might be my favorite day of the trip: classic London sites like Westminster Abbey, Parliament/Big Ben, Buckingham Palace, Picadilly Circus and Trafalgar Square, with the Churchill War Rooms and a show with Dame Angela in the West End as the big events. Kindofa perfect tourist day for my particular tastes.
Today was a continuation of that.
We took the bus into town; what would normally take about 20 minutes took an hour in rush hour traffic. We are staying in Zone 2, for those of you familiar with London. We picked this apartment because it was one of the few actual apartments we found for the price we were willing to pay. Most others, while may have been closer to the center, were much smaller and studios. When we're looking for places – especially for longer stays of 3 days or more (this one is 5 nights), we focus on spaces with separate living space from sleeping space, because we're on different sleeping schedules. We knew we were a 20 minute bus ride from most places we would want to be when we booked it. This morning that strategy just backfired on us!
We got to the Tower of London around 9:45. All I knew about this Tower was that people had been imprisoned here, and that the crowned jewels were kept here. I literally thought it was a single building with a turret maybe. I was completely blown away by the history and the size. It dates back to William the Conqueror, 1070-ish. Some of that is still standing, much has been rebuilt, refortified and/or added on to over the centuries.  It was originally built as a fortress. While earlier kings did spend time here and there were living quarters, they wandered around a lot in those days – lots of peoples to conquer I guess! – so they were never here very long, and the living spaces were not elaborate. Definitely more fortress than residence.
New across the Thames from Old. The tall building on the right is The Shard, just opened in 2012. It is 87 stories and the tallest building in the European Union.
Tower Bridge from the Tower of London. Picture taken by random blue-haired girl. Blue hair is somewhat popular here. And bright fluorescent tennis shoes are hugely popular everywhere we're been. Nothing to do with this picture just throwing it in.
This is inside the complex and gives you a better understanding of size. The white-ish building towards the left is the White Tower, a big building in the middle of the complex. This space encircles it.
More new/old juxtaposition. That's the HMS Belfast in the background.
Luckily it wasn't loaded!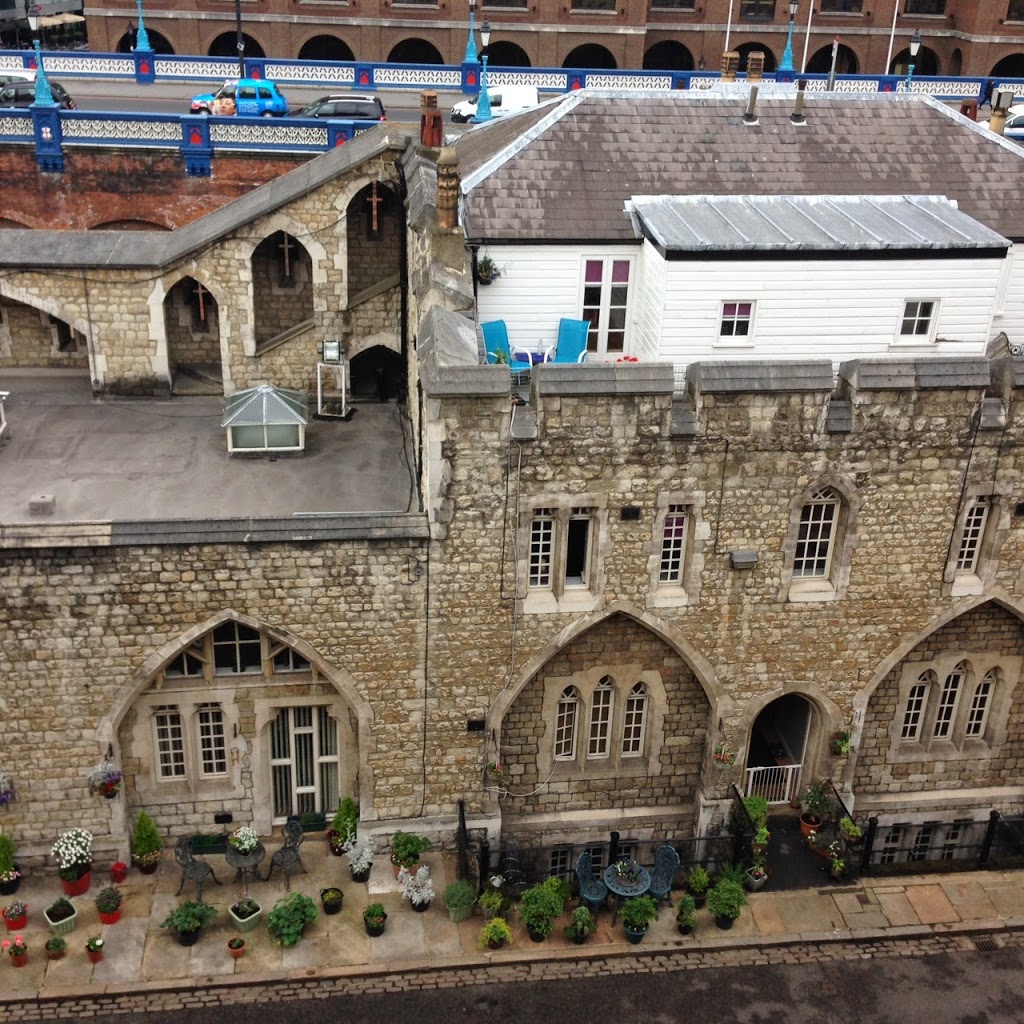 It looked like people were living here! We meant to find out more about it but forgot to ask.
We did get to see the crown jewels. It was all really beautiful and words won't really work here. Too bad they won't let you take pictures. It included video of the current Elizabeth's coronation. All very majestic.
This was in the White Tower, which we jokingly called Ikea. Once you were in, you couldn't get out. It was big, multi-floored, and they herded tourists through all moving in the same direction. Each building in the complex was that way, and for the most part we appreciated it because traffic flowed much nicer. But in this building it was annoying because there were So Many Children.
Henry VIII's suit of armor.
Can you imagine being a child that small and going into battle?
A torture device we hadn't heard of: Scavenger's Daughter. The drawing gives you and idea of how the person was in it, then it clamped down and crushed them. It was invented by a guy named Skeffington, and was considered the perfect complement to the rack, which was known as Duke of Exeter's Daughter. The name morphed.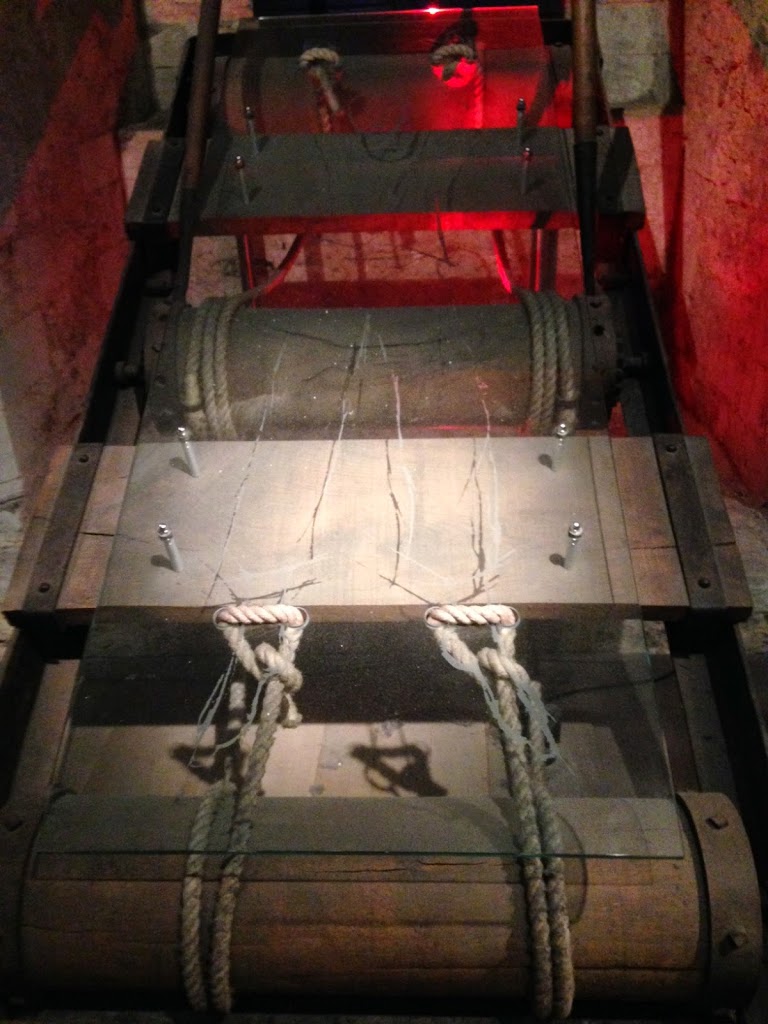 The rack.
We stayed at the Tower of London about two hours. Next we were going to something called the London Bridge Experience. (You can start singing the song now if you like.) We had to cross Tower Bridge to get there so, while we hadn't planned it, spent about 45 minutes there on the way. How could we pass up "the most famous bridge in the world"?
East view from the upper walkway.
East side of the upper walkway. Both walkways had lots of things to look at – bridge history, lots of info on other impressive bridges around the world, more London history or what you were seeing on the skyline before you. The west walkway had an interesting "London in the Sixties" walk which I really liked.
View from the west walkway.
The nicknames for the building on the left is the Walkie Talkie; the building on the right The Gherkin.
This interesting thing is City Hall.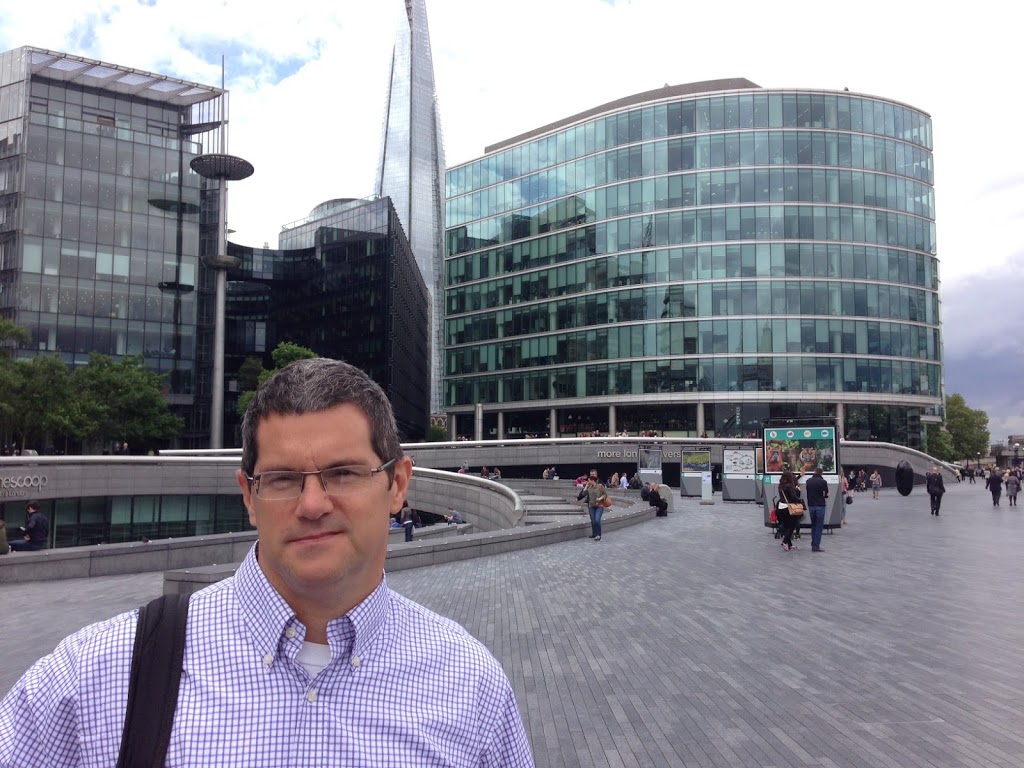 Really nice complex of buildings next to city hall.
We found a little market and picked up some sandwiches and ate on a park bench on the river promenade. Next was the London Bridge Experience. This was the most expensive item (if we were paying full price) in the London Pass, so we felt compelled to check it out to make sure we were getting our money's worth. This definitely goes to the top of the list as one of the more unusual things we've experienced. It was part museum/ part house of horror / part amusement park ride / part theater. One thing I learned that I found interesting was that London Bridge used to have businesses and residences on it. I found this rendering showing what it might have looked like in the 1200s.
The whole "experience" was definitely not worth what they were charging!, but it was entertaining enough. We were out of there about 2:30pm. Weather and bad timing kept rearranging what we did the rest of the afternoon, so I'll condense it to this: we did see some of Hyde Park from the bus (was too wet to get out in it at that moment), but the rain quit quickly and we took a really nice walk through portions of "The Royal Borough of Kensington and Chelsea". How's that for a fancy name? This included a stop into Harrod's. Neither of us are very impressed by high-end retail stuff – and OMG the perfume smell everywhere was overpowering, especially to poor Dan who is very sensitive to smells and got a really bad headache from it. We were there mostly to check out the "food halls" we had heard about and it was worth seeing. Areas for fresh "take away" of just about anything you could want in lots of different ethnic flavors, chocolates, coffee and tea, meat/fish/poultry, a caviar bar, etc. The store also had a nice memorial for Diana and Dodi.
Eventually, we ended up back in the West End and had a nice sidewalk dinner at a French place that was offering "pre-theater" 3 course dinners for pretty reasonable prices. It was packed but we were able to snag the last table on the sidewalk.
After dinner was our 2nd show of the trip, the Lion King at the Lyceum. This 2100 seat theater was built in 1834. The Lion King has been running here since September 24, 1999. Although it is my favorite Disney movie, for some reason I never had any interest in seeing it on stage. But the reviews I've read have always been very good, especially around staging and costumes. Just how do you do a stampede of wildebeest on stage?
We were first balcony, 3rd row. I was worried that Dan wasn't going to be able to enjoy it because of his headache and had offered to go back to the flat, but he pressed on. It had mostly gone away by this point and it was fun to watch him react to the opening number. I learned at dinner that he'd never seen the film before – I had just assumed, and a very bad assumption! – so he had no idea what the story was. I've always thought the opening of the cartoon is some of the best animation ever put on film, and it always chokes me up a little. So did this. It was fun watching Dan literally move to the edge of his seat – especially when the elephant came into view walking up the center aisle – and watch his expression be complete amazement. The opening number hooked him and he really enjoyed the rest of the show. So did I, but I was really thrilled that he did. Made up for me dragging him to see Angela :)
Enter your email address to subscribe to my blog, which will provide notifications of new posts. Soon after you enter your email address below, you will receive one to confirm your subscription. Check your spam/junk folder if you don't see it.