Same morning routine: simple breakfast in, get ready to go. This morning we also stopped by Sainsbury's, a UK grocery chain which we used in Edinburgh as well, to pick up some picnic items for lunch. They had a "meal deal" for 3 pounds – fresh sandwiches, chips (as we know them, not fries) and soda, so we got that and stuffed it all in the backpack.
We took a bus to Clapham Junction station and took a train to Hampton Court Palace. It was about a 30 minute ride but you never really left the London metro area. We had never heard of this place before but it was highly suggested by the London Pass and had great reviews on TripAdvisor as well. Since we'd just done Versailles (exactly a week before) we figured it would be a fun comparison. We got there about 10:45.
Hampton Court was built by Henry VIII, another historical figure I've always been fascinated with. It was built in the early 1500's, and added onto by other monarchs as the years went on, especially in the 1700's. Architecturally it is not as grand as Versailles, but still interesting and beautiful. What made it very different from Versailles was atmosphere and presentation:
Not nearly the crowds
They really want you to get a feel for life at court
Depending on what area of the palace you're in, there are actors in full period costume hanging about the palace in full character, interacting with visitors with never going out of character, and they're playing real people – including Henry VIII and George I.
The main entrance.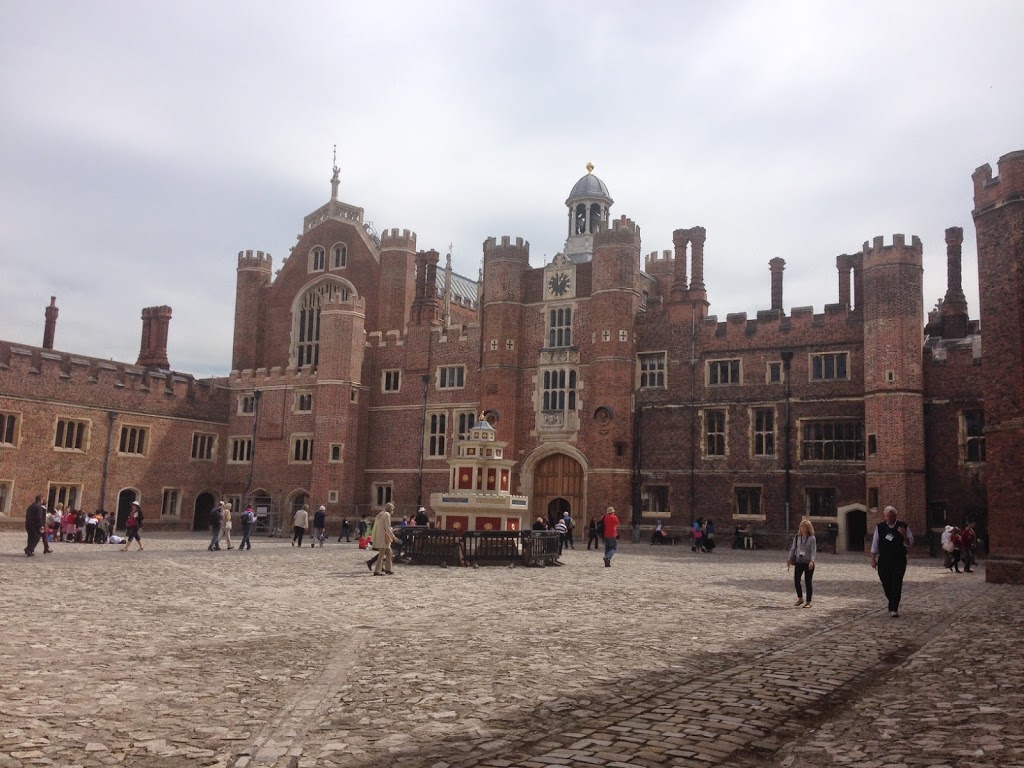 The first of 3 courtyards, this one referred to as Base Court.
These 2 started talking – yelling really – at each other as if there were not about 100 other people in the courtyard, so we got to eavesdrop on their conversation. He is playing Thomas Culpeper, a favorite of Henry's until the alleged affair with the girl became known. She is playing Catherine Howard, currently lady in waiting to Anne of Cleves, wife #4, and soon to be Henry's 5th wife. About a year after her marriage she is executed for adultery, the only other wife executed after Anne Boleyn.
I never did catch this characters name but her and Catherine above were seen gossiping about the palace all day.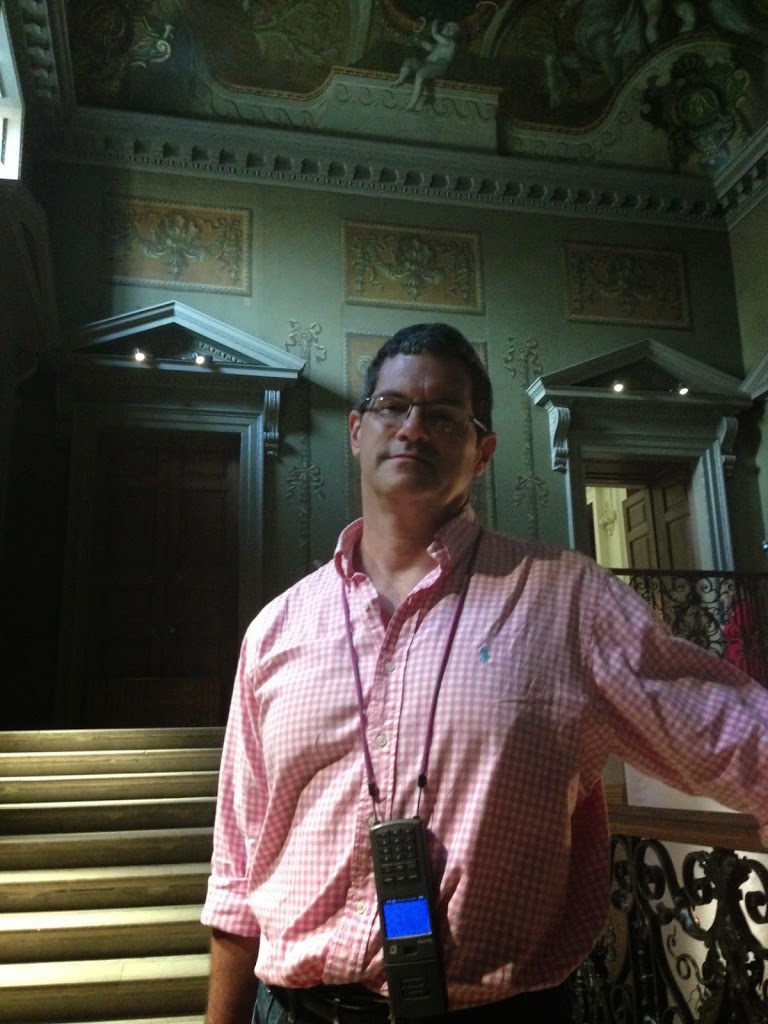 This was the entrance to the section added by King William and Queen Mary, who ruled jointly in the latter part of the 1600's.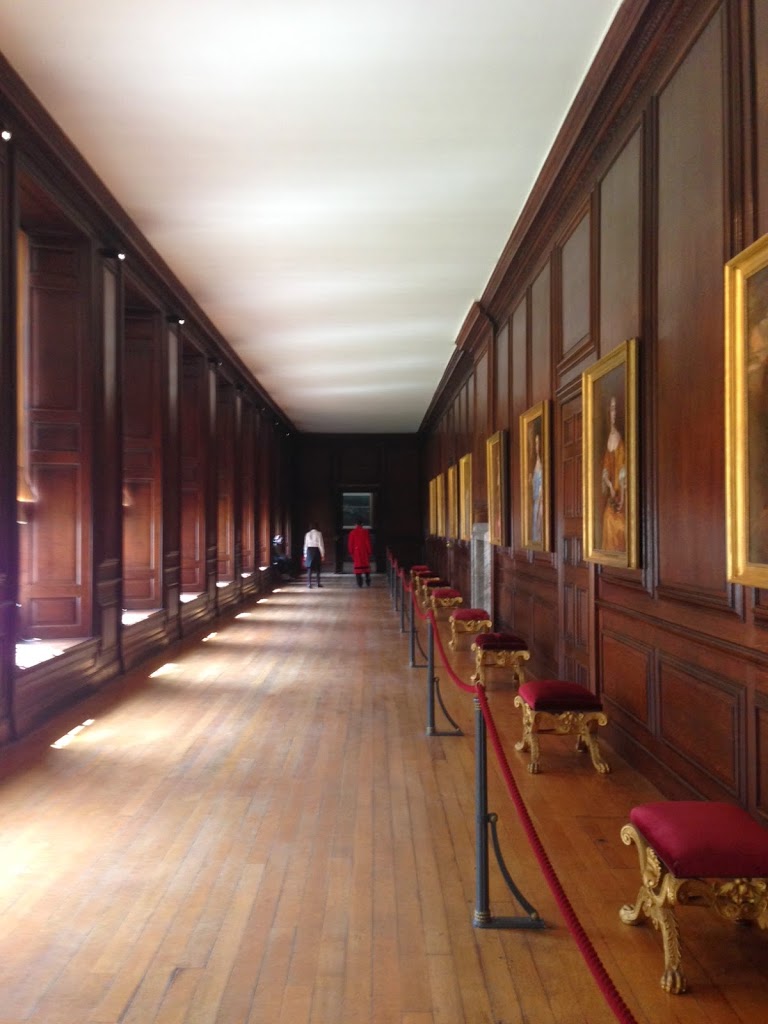 You can see how crowded it is!
In a different wing, the guy on the right is supposed to be King George I who was King from 1714-1727. He was a distant relative of Queen Anne, but the 50 other or so possible successors were all Catholic and that was against the law! He was actually from Hanover, in current Germany, and spoke little English. The monarchy's power diminished during his reign, shifting to the model we know today, where the government is lead by a Prime Minister. I didn't catch the character's name on the left, but we chatted with him for a bit. When he asked us where we were from, without missing a beat he leans over to the King and says "they're from the Colonies."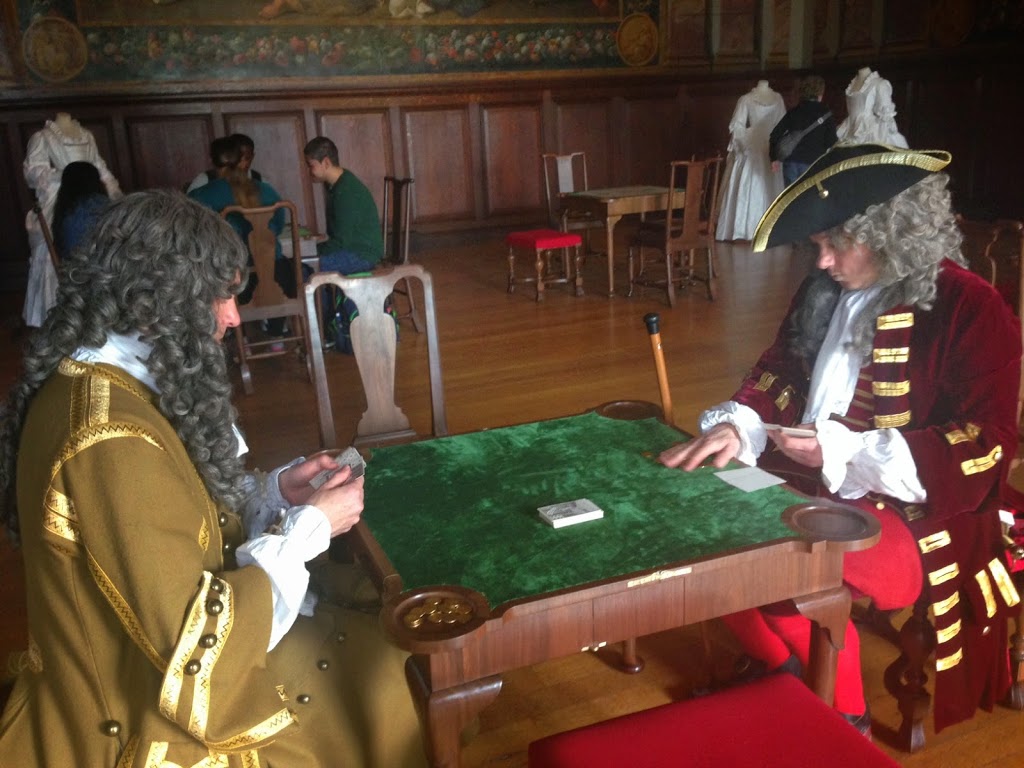 George Prince of Wales on the right, who will become George II in 1727, killing time playing cards in the drawing room. I learned here the term is short for "withdrawing room", supposed to be a place of refuge in the palace.
An entrance to another wing but I don't remember which one!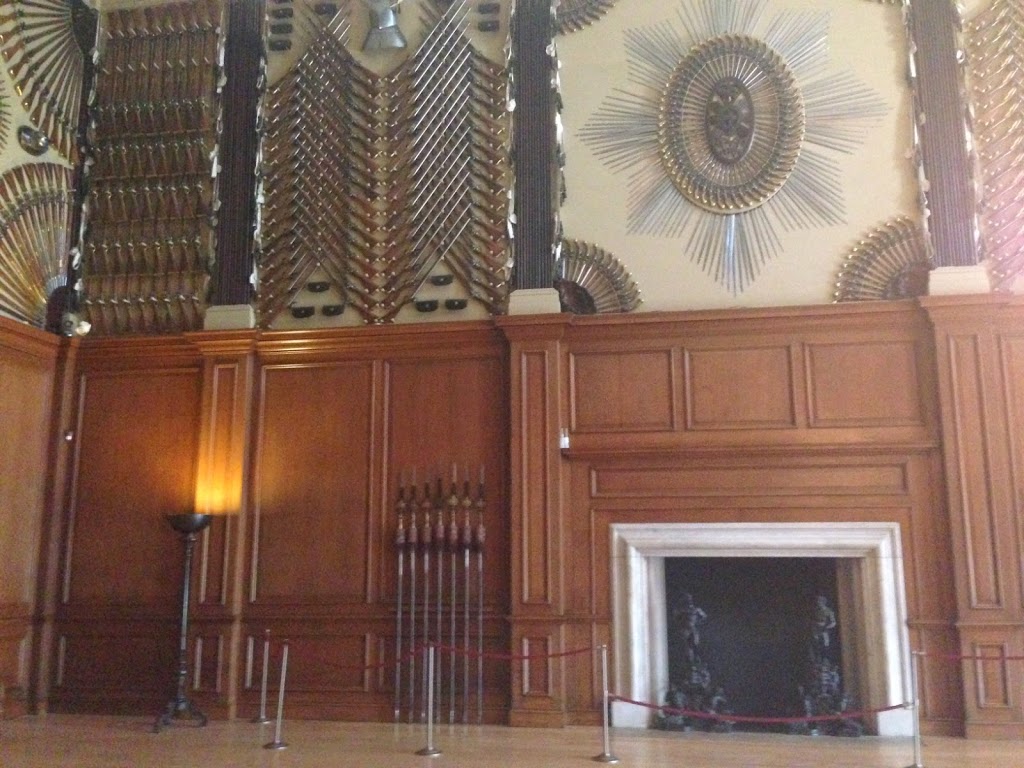 Weapons room in this same wing.
You get one guess.
The kitchens from the Henry VIII wing, which served the whole palace.
Wine cellar.
Clock in the Clock Courtyard. There was also a Fountain Courtyard but we didn't get a photo of that.
The dining hall of Henry VIII. There were all kinds of cute saying and rules of the King on the table cloths.
A cute bird who joined us for our picnic lunch in the gardens. We think he's been conditioned to being fed!
These gardens were not as extensive as Versailles, but in some ways were prettier.
This was the private garden of King William.
The original plan was to go to Wimbledon next, which was a stop on the same train on the way back, but we didn't leave the Palace in time to make it for the 3:30 tour we scheduled. We've re-booked that for Friday morning.
Instead we went to the National Gallery at Trafalgar Square. Pictures were not allowed inside; yesterday's entry has a picture of the outside. An impressive collection of art, we focused on 17th-19th century. The 17th century rooms were filled with Flemish and Dutch painters and we recognized quite a bit – in style and subject – from our Netherlands trip last year. A full room of Rembrandt plus others spread out. Lots of other big names spread throughout. This visit I think really confirmed that 19th century art is my favorite. They had some of Monet and Van Gogh that I had never seen that I really liked. And one from our new favorite from Paris, Paul Signac.
From there we headed into the West End/Soho area, got a quick bite to eat at a little Chinese joint, and went to the Curzon, a movie theater we would call an art house, focusing on independent films. The London Pass give us entry for free so we decided to check it out. We picked a film that looked interesting in description – Japanese animation, a story about an aviation engineer designing airplanes to be used in Germany and Japan in the build-up to WWII. Just our subject, right? And an 8.0 on IMDb. What could go wrong?
It was bad, bad, bad. It was actually more of a love story than anything, sweet in it's own way, but painfully slow and just soooo not what we were expecting. Thankfully we didn't spend any additional money on it! Afterwards we walked about the neighborhood a bit more, including London's version of Chinatown – just a block or so really and almost but not quite as touristy as the one in SF. It was mostly restaurants with workers standing on the sidewalk trying to get you to come in. At least there wasn't the schlock for sale everywhere you see in SF.
We do like that much of this West End area is closed to vehicles.
And that was pretty much the day. In a way it didn't feel like we did much but it sure went by fast! I just noticed we didn't take any pictures of the West End. I think we're getting tired :) Last year we did 18 days, I swore I wouldn't do that again for awhile. And technically we didn't – this year it's only 17 days! But something in the 12-14 range is probably more reasonable. It takes so long to get here and get back you want to make it worthwhile. The pace we keep wears on us but we like the pace so I doubt that will change much. Especially when I look at what we have planned for Thursday! We'll see if we can fit it all in.
Enter your email address to subscribe to my blog, which will provide notifications of new posts. Soon after you enter your email address below, you will receive one to confirm your subscription. Check your spam/junk folder if you don't see it.