The last couple of mornings I used my morning time over coffee before Dan gets up to finish the blog. And that was true this morning as well. I got up about 6, he was up after 7 sometime. We fixed breakfast focused on finishing the groceries we'd bought the other day and accomplished that. We left about 9am to get lunch items to pack from the grocery store, then headed in the direction of Wimbledon.
Anyone that knows me knows this is not an idea I would have come up with. But when we were planning this trip 6-8 weeks ago, Dan was looking over the options available on the London Pass and was very excited to learn that a tour of Wimbledon was included. He played quite a bit of tennis in junior high and high school, and watched lots of tennis on TV until about 2009 when he gave up cable. This was the one thing on the trip that was totally his and I was happy to join him.
We took a bus again to Clapham Junction, and transferred to another bus to Wimbledon. While crossing the street I noticed this sign on the side street next to me. Here's one for the other Harry Potter fans out there:
That first bus ride was just about 10 minutes, and it was only about 15 more to Wimbledon. Wimbledon is actually a town, used to be a suburb of London but now the metro area has grown all around it. Wimbledon as you know it – tennis championships – rose up through the All England Lawn Tennis and Croquet Club, a private club that's been around since 1868. As tennis became more and more popular, venues were needed for championships and the AELTC provided its facilities for the first time in 1877. Those facilities were located a couple of miles away from the present location, which has been in place since 1922. The AELTC still exists, only 375 members, all invitation only. It's essentially a country club; fees are relatively low (although the tour guide wouldn't say what they were) – membership is about being able to play tennis and connections. Openings typically only occur upon death and there's a long waiting list. You have to be referred by 4 different current members to even get on the list.
We only spent about 20 minutes in the museum itself, the time we had between when we got there and when the tour started at 10:30, which was scheduled to be 90 minutes long. And it was!
Standings from the last championship still up.
We are standing at the top of what's been referred to as Henman Hill for awhile, referring to the most successful Brit to win at Wimbledon, three years a row in the 30's. For the first time since, a Brit named Andy Murray from Scotland won last year and some are starting to call it Murray Mound. During the games, a huge screen in the space against the stadium behind Dan's head projects games live for those who were lucky enough to get in that day but can't watch from Center Court. There's a whole thing about getting in and it's very complicated so I'm not going to try here. Suffice it to say, it ain't easy. Luck and willingness to get there early and literally camp out in the golf course across the street has more to do with it than money or connections.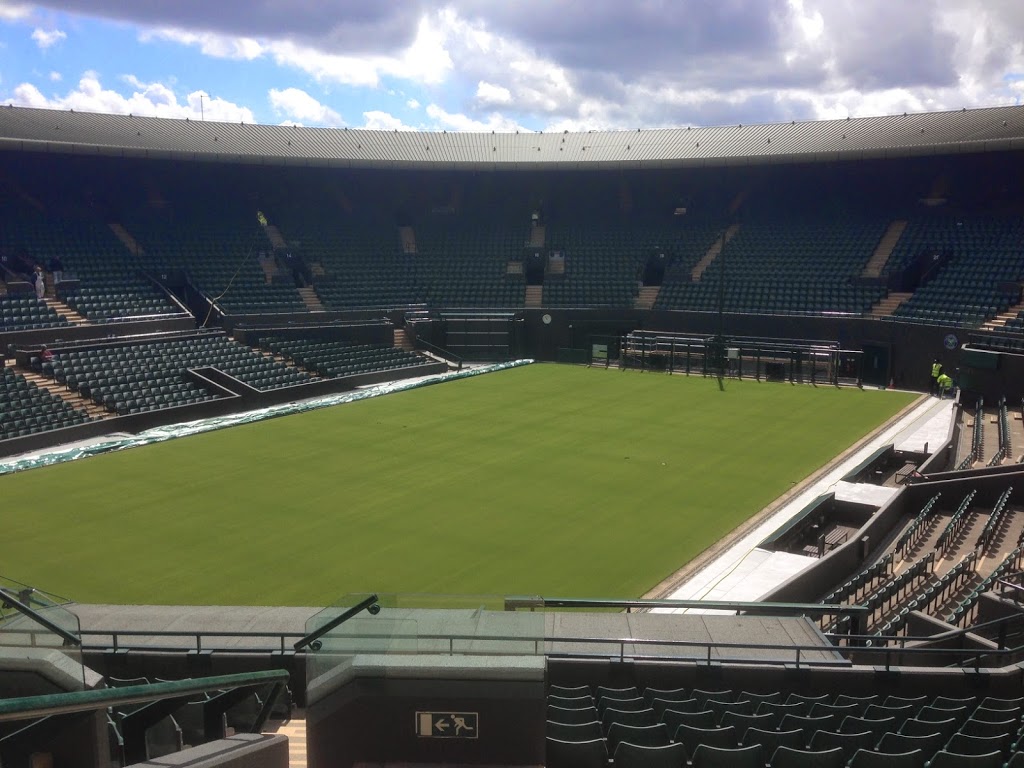 This is Court 1. Since I've never watched the games, the significance of this was lost on me but apparently it's a big deal :) It seats about 11,000 and is constructed so that there isn't a bad seat in the house. By 2019 I think the guy said, there will be a retractable roof on it as there is in Center Court. Wimbledon is known for its lawn courts (I didn't know that!) and apparently rain is a huge problem during the games.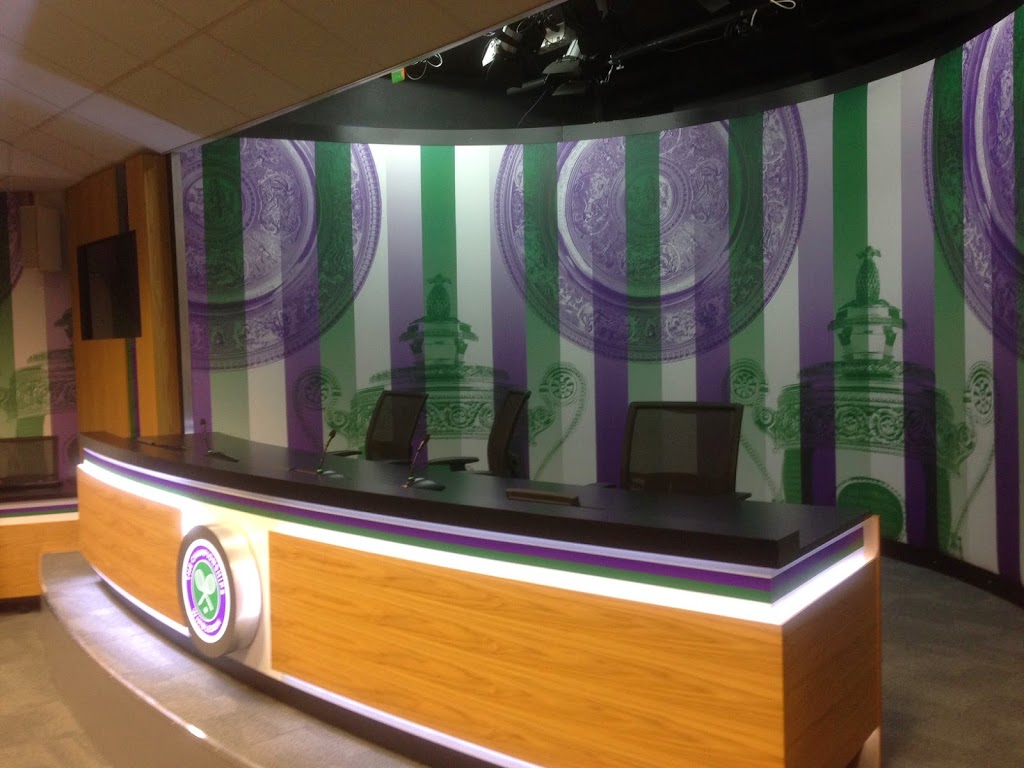 The Press Interview room.
Everyone got their star moment :)
This is Center Court. The only time this and Court 1 are used is during the Championships. There are I think 18 other playing courts, 22 practice courts and others total ling 50 courts on the 42 acre complex. The area framed in wood is the Royal Box. Center Court seats about 15,000.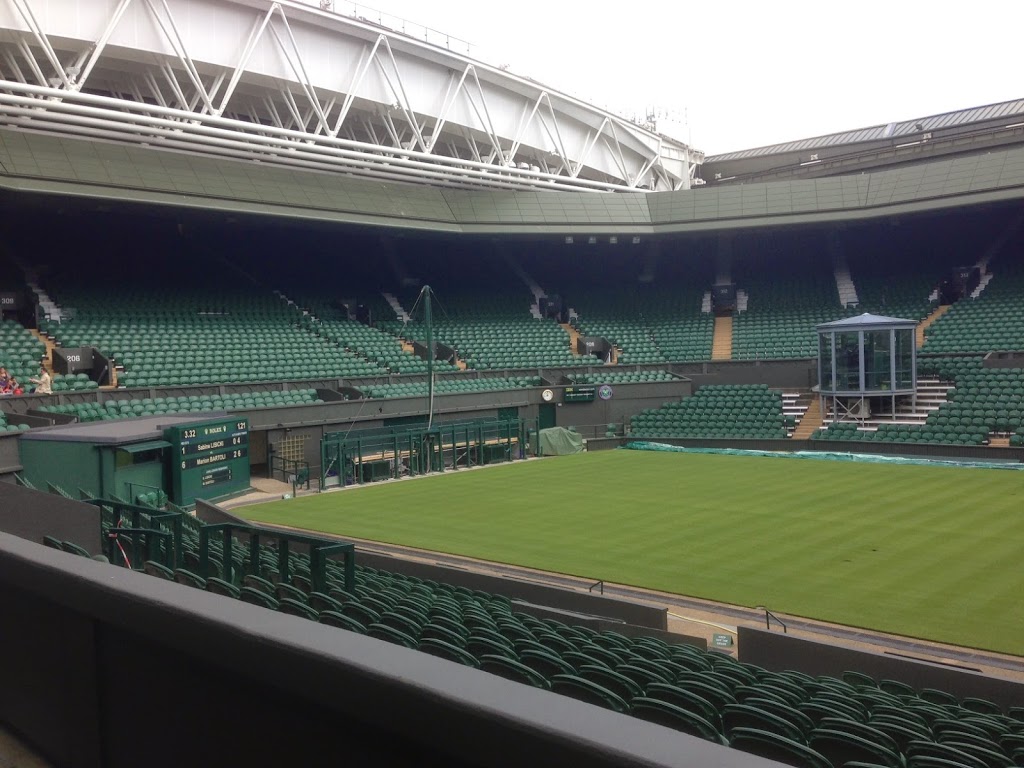 The white is the retractable roof.
Dan was very glad he came. Although most of the tennis stories the guide told Dan knew, because he'd watched them while they were happening.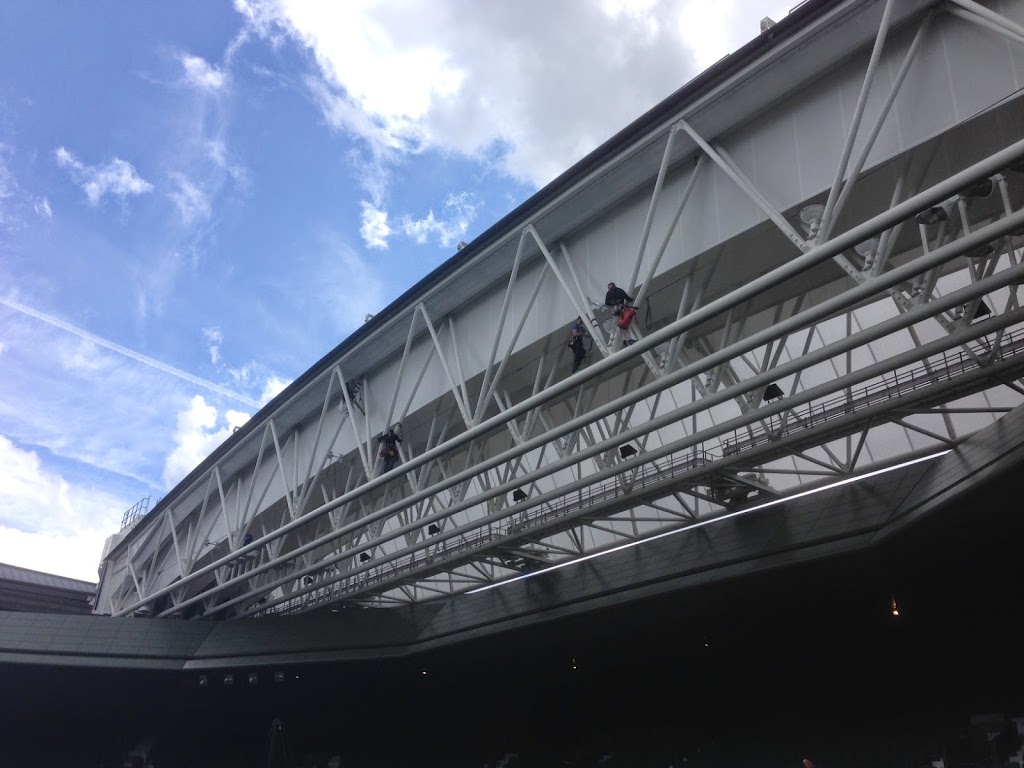 Guys up there preparing for the games which start in 2 weeks.
I doubt I'll ever be a tennis fan, but I really enjoyed the visit. I appreciate history and tradition and respect for both and this place has tons of all of that. It was fun to see Dan be excited about it, too.
We headed back to the city and made our way to Kensington Palace where we ate the lunch we packed. That's sort of been our thing in London: lunch in or in front of a castle or palace, 3 out of 4 days.
Kensington Palace is on the western edge of Hyde Park, technically in Kensington Gardens but they all run together. It is the current home of William and Kate, and where Princess Diana lived from 1983 – 1997. With Alnwick Castle in northern England, they are the only two we've visited that are still used as a residence. In both cases, we didn't get to see the spaces we are most interested in – actual living quarters – but I guess that's understandable. We were told at Alnwick that they wouldn't be interesting because they're completely modern. I think that would make them more interesting, but I understand the need for private space.
All that said, the parts of Kensington that are open to the public is completely meh. We've decided that apparently we've become palace snobs! This was built by King William of Orange, same guy who did one of the wings at Hampton Court, and it was completely obvious in style, especially his state rooms which was actually the best part of the tour. There was a section on Queen Victoria that should have been interesting but wasn't really. And this odd focus on fashion, which I guess you have to be a fashion person to appreciate. We were completely underwhelmed by the whole thing, but Dan did snap a few pictures.
Me being underwhelmed.
They had an odd fascination with mobiles which we thought were tacky as hell. Clearly not a palace original!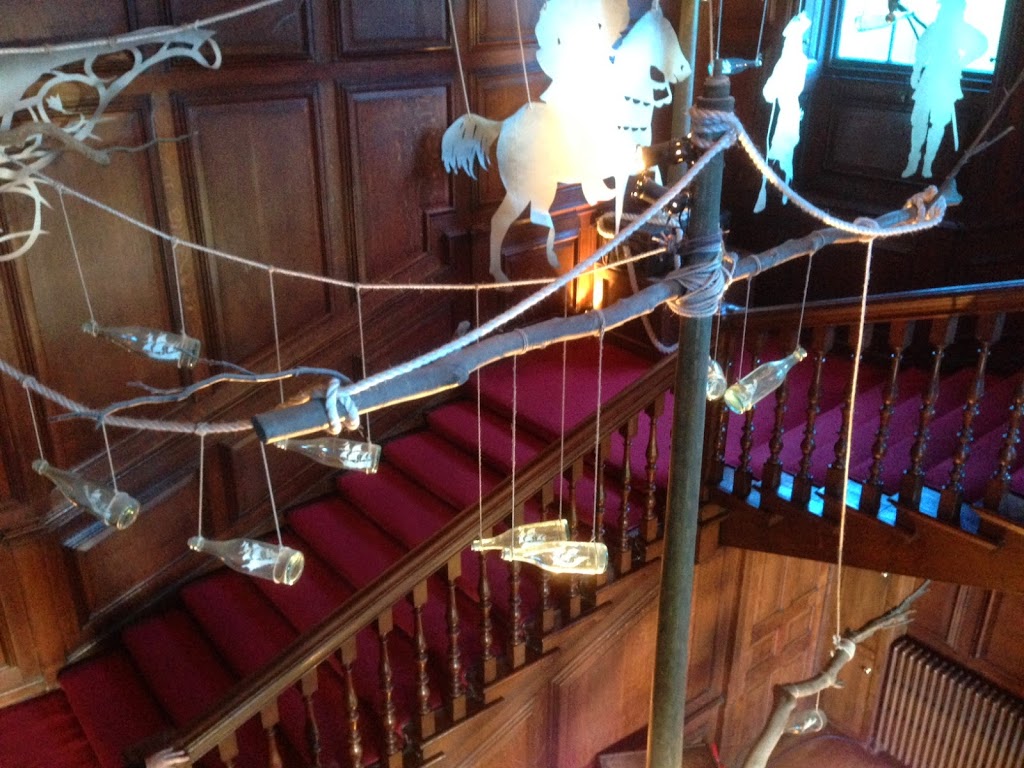 Again with the tacky mobile. We asked what this was supposed to represent and the story itself made sense – the Glorious Revolution of William and Mary – but certainly they could have found a more compelling wait to do it.
One of the current queen's gowns. Rooms of this stuff.
This pictures doesn't capture what this was, which was a series of overhead cut-outs you walked through to create the image you were in a building.
By the time we got out of the palace, it was cold and drizzly, despite the 2 forecasts we'd looked at that predicted zero rain and highs of 65. I had gone out without my jacket and we left the umbrellas behind, too. Oh well. We were either going to do a canal boat ride or a movie next so this shifted us to the movie. But it was still a good walk through Hyde Park to get there. But it never did more than drizzle so we were OK.
This was a tribute to Prince Albert, Victoria's husband, across from Royal Albert Hall.
Royal Albert Hall
Today's' movie, still on the London Pass, was Two Faces of January with Viggo Mortensen and Kirsten Dunst. We saw it at the Curzon Mayfair just on the opposite end of Hyde Park. We liked it; and anything would have been better than that one the other day! It was over about 6:30; we stopped  for Indian "take away" in our neighborhood and had dinner at the flat. We are packed, alarms are set for 5am. We leave tomorrow morning for NYC and have one night there before we head home.
We are ready to come home.
Enter your email address to subscribe to my blog, which will provide notifications of new posts. Soon after you enter your email address below, you will receive one to confirm your subscription. Check your spam/junk folder if you don't see it.