It is now actually Friday morning, around 11am Central Time. I'm writing this in the American Airlines lounge at DFW. Because flights into and out of Cozumel are so limited, in both directions we've had an overnight in a DFW hotel. In a way it made it more relaxing. We had a nice dinner last night at the hotel, breakfast in the lounge there this morning (traveling with Dan has its perks), a workout in the hotel gym, and now here with all the free drinks and snacks we could want. Not a bad deal. The best part? More electrical outlets than you can shake a stick at – eight just in this little corner we're sitting in. No problem getting things charged up here.
Terminal A Admiral's Club, DFW
But I digress. Yesterday was just another day in Mexico since there is no Thanksgiving there. We all got up sometime soon after 6am and took our time getting into the day. I finished the blog I was working on and got that posted for whatever day it was. Tuesday's I think. Before we headed out for breakfast I took some shots of Jon's place.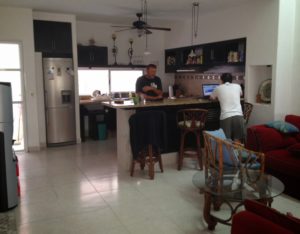 Downstairs is dining, living and kitchen area, in that order. This is the 2nd half of it after you enter.
And here's the first half.
From the couch, you see the TV area and the open ceiling that looks up to the 2nd floor landing between the two bedrooms.
From the landing looking into the guest room.
Looking down from the same spot I was standing in the above picture.
Dan really enjoyed playing with Chai while we were there, but couldn't get him to look at the camera….
…so Jon stepped in to assist.
The courtyard you walk into from the street. Nice and private. Also Jon's scooter, his primary source of transportation when he doesn't want to walk. This is definitely a scooter island.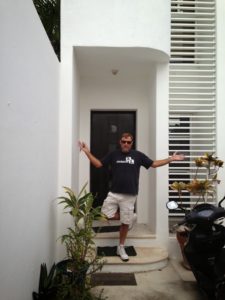 Jon looking fabulous on one leg at his front door.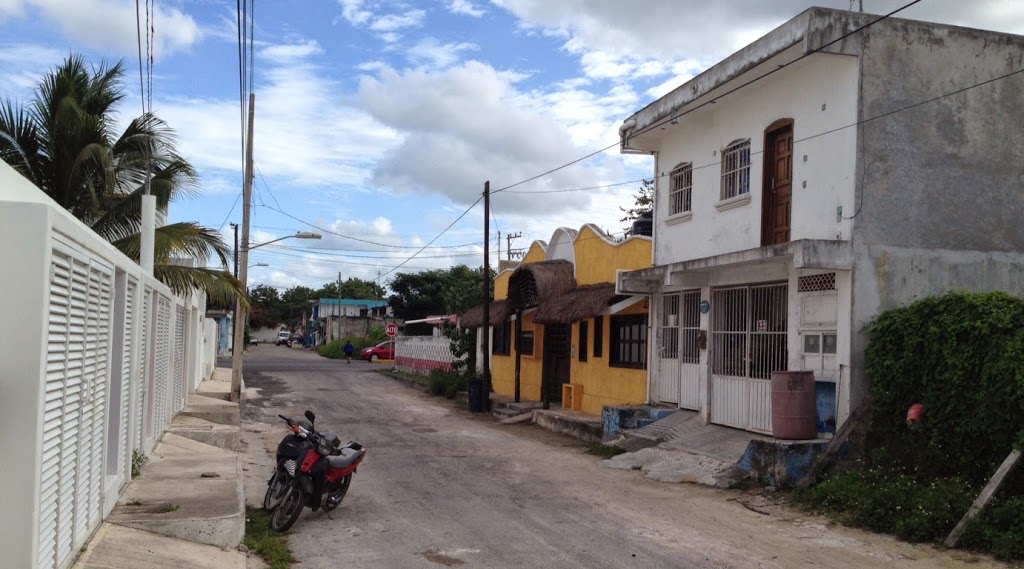 Looking down the street to the left from his front gate….
…and to the right.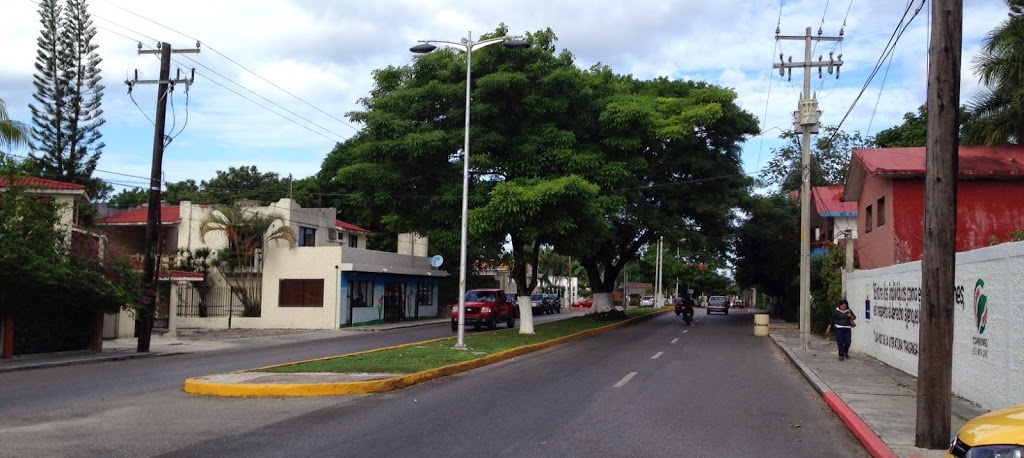 Several of the main roads are boulevards that look just like this.
We went back to the market we'd gone to on Monday for breakfast to try out one of the other eateries.
See what I mean about scooters? These are all parked in front of this market.
This met Dan's criteria for determining authenticity: the menu outside was NOT in English also, and there were no Gringos in the place. Jon's observation that the help was plump (seen in the background) made it a winner.
And it was! I'm usually not one to take pictures of my food but I thought this was just pretty. Chicken enchiladas with mole. The white is pure cream. Californians take note: in 4 days I saw no black olives, nor any sour cream. That's the way it oughta be.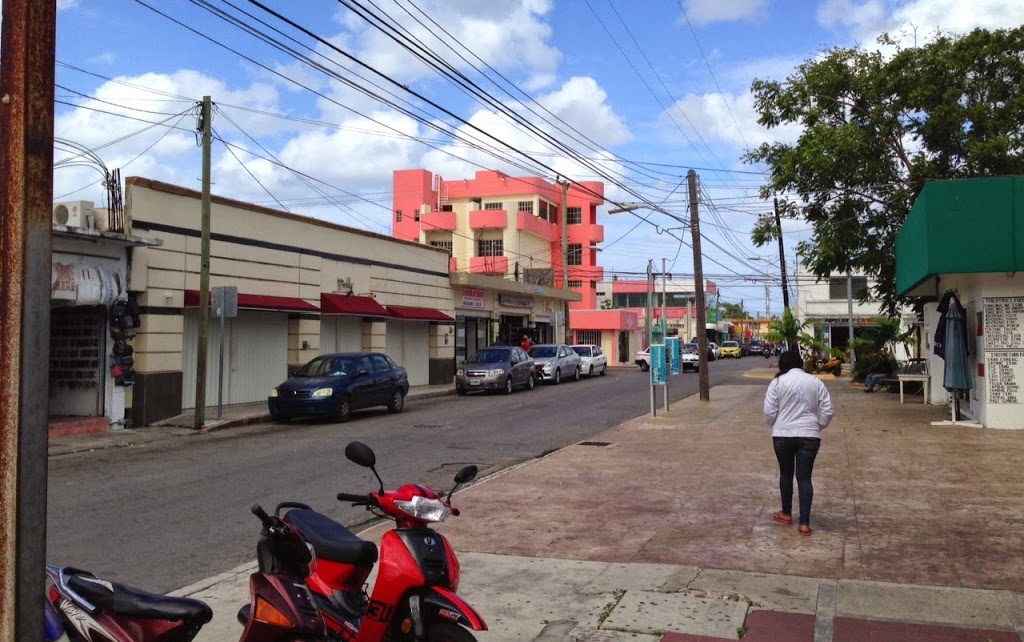 Pink condos across the street from the market.
Dan had been saying for days he should get a haircut while here. So when we happened across this barber with the single chair – empty – and had time to kill, he figured why not. This guy who had chatted us up earlier as we were walking to breakfast ran into us again and talked to Jon and I while Dan got his haircut. She did a really nice job despite the language barrier – Jon helped translate. After we'd walked away Dan goes "Uh, I think she was a man." We were like "Uh, yea, how long did it take you to figure that out?"
We ventured into a couple of farmacias looking for anti-itch cream for Dan – he got bit by something in the cenote – but ended up not getting anything. We made it back to Jon's, finished packing, said our goodbyes to Jon and Chai and took a cab to the airport.
It's a pretty small airport. This is the entire waiting area for all gates.
A seating area (that's Dan right of center) around a food court where we killed some time. We weren't that early, it went pretty fast. But this is pretty much the entire airport. We were at our hotel in Dallas (technically Irving) by about 5pm.
As Dan was going through the photos on his phone he came across this. If you look closely at that little blur in the air between the hut and the palm tree just left of center, that's me parasailing on Monday. He could see me from where he'd stayed back on the beach.
FINAL THOUGHTS
For my first ever trip to Mexico, I have to admit several things surprised me.
1. Speed bumps, aka topes. They are everywhere, including where you wouldn't expect them along freeways. Jon says the entire country is that way. It was just so odd. We got surprised by them a few times.
2. For all the jokes/cautions I got about "don't drink the water" coming into this trip, while here it wasn't that big of an issue, but it does have a way of lingering in the back of your mind when you learn that even the locals don't drink the water. The closest I got to tap water was rinsing my toothbrush off. We never got sick so must've done OK. And we ate in some pretty local places, which is our tendency. Jon assured us even in family-owned hole in the wall places, which is our preference, they're not going to risk getting their customers sick and are well prepared to deal with the water issues.
3. There's definitely a difference between the resort areas – which is where most of the people I know who've come to Mexico on vacation, at least recently, go  – and the neighborhoods where folks live. I guess this is true in the USA too but the gap here seems more dramatic. That said, we were very glad to have stayed out of the tourist areas, because the whole point to us is to get a feel for what it would be like to live wherever we are.
4. Dogs. I can't remember that last time I saw numbers of stray dogs roaming around. Maybe never, at least not this much. Flashbacks to childhood perhaps in the south side of San Antonio. But it's so obvious here it was striking. And it was everywhere we went, not just Cozumel.
5. On this trip more than any other we've done, I was struck by the randomness of privilege. Especially when we were in Chemax, all I could think of was: these folks may have no idea how bad this is if it's all they know, and certainly no idea or perhaps even means to get out of it. And the stray dog issue was rampant there, and they were sick and sad. It was very depressing. We are so blessed on so many levels and usually completely unaware of it until we encounter something like this.
6. Still, all of the locals we encountered everywhere were very friendly to us and seemed happy and content with their lot in life. Of course there's no way to no if that's true for sure. But even the guy who talked to Jon and I while Dan got his haircut had an interesting story about living in the states as an illegal for 10 years, following his mother – did well in high school and even got a sports scholarship to college – and that was when his problems began because the school needed his social security number to arrange for the rest of his financial aid. He ended up not being able to go there, and got deported after a random traffic accident in a parking lot with an off duty cop. Now to hear his side of it, it wasn't his fault and the odds were all stacked against him. No way of knowing if that's true or not – he certainly seemed the type who could get himself into trouble! – but what I really noticed about this guy is how happy and content he seemed despite his tale of woe. He didn't see himself as a victim and had decided he was going to be happy no matter what. "Look at this beautiful place I live in! It could definitely be worse."
By the time I had landed on Sunday, Dan and Jon had already talked about us coming back next year, and spending some time in Belize. So we will see how all that turns out!
As always, thanks for coming along for the ride.
Enter your email address to subscribe to my blog, which will provide notifications of new posts. Soon after you enter your email address below, you will receive one to confirm your subscription. Check your spam/junk folder if you don't see it.