So technically this isn't Day 1, more like Day 1.5. And it depends on who you ask. It's Day 2 or 2.5 for Dan. We were both traveling last week – me to Ohio, Dan to North Carolina. I got home on Friday, left on Saturday to come in this direction. But since you can't get same-day connections coming from the west, I spent the night in a DFW airport and got here yesterday, Sunday, about Noon. Same day connections from the east are not a problem; Dan went from RDU to Miami then here – just took a little over 3 hours in the air total, which is why it didn't make sense for him to go home first. And why he got here on Saturday. Confused? Try being us for a month :) We do have interesting travel schedules. (The worst part was figuring out what to do with pNut when Dan's last minute trip to NC came up, but that's a whole other story. Thanks to Mary Lou, Jo and Laura for helping out!)
Yesterday seemed to go pretty fast. Dan and Jon had been walking around the island all morning. They walked to the airport to meet me; Dan was pretty tickled by this. "I've never walked to an airport before!" I was standing in front of the airport and was certainly surprised to see them, I was expecting a Jeep. We took a cab to Jon's place, had a time getting there because of a bike event, lots of streets were closed off.
Jon has a very nice 2 bedroom condo. Will have to remember to get some pictures before we leave. We went out for lunch to a seafood place. We got to pick the fish we wanted to eat from an ice chest! Jon and I had grouper, Dan got snapper. The whole fish was fried, showed up on your plate completely intact, eyeballs and all. It was very good, very fresh.
We went to a little resort area after and played in the water a little bit. The water was very clean (although not according to Jon – guess it depends on what you're used to) and cool but not cold. Very different from the northern Pacific that's for sure. I'll have to admit I didn't realize that we were in the Caribbean. Not sure what I thought it was – the Gulf of Mexico probably, which would be true if we were on the other side of the Yucatan Peninsula. But this side is definitely in the Caribbean. And it's beautiful.
First sighting of the Yucatan Peninsula from the plane.
Cancun! We won't make it there this trip. I hear it's very touristy, not really our scene anyway.
First sighting of Cozumel from the plane. Pretty pretty!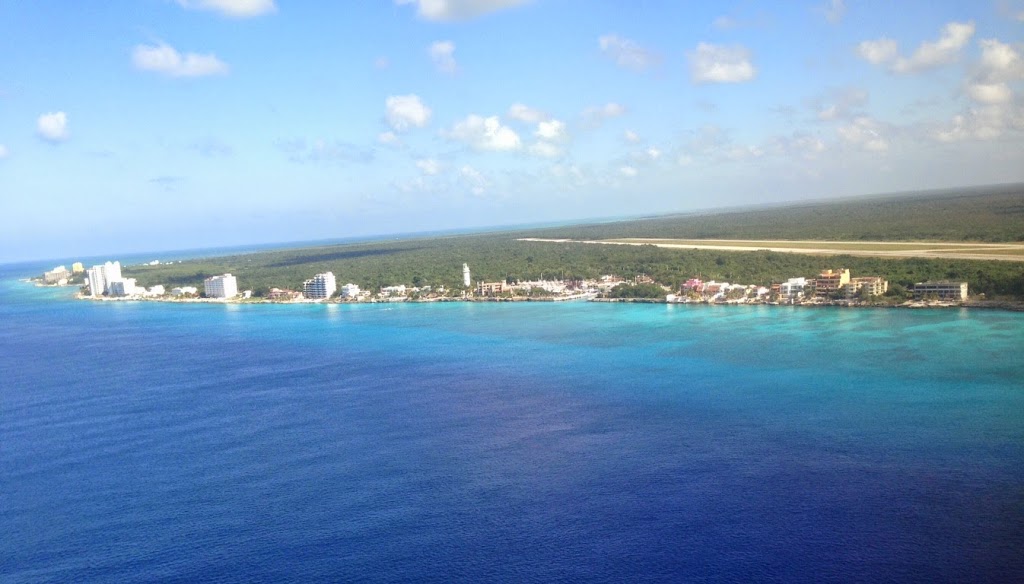 Amazing water. Yes that's a runway in the background.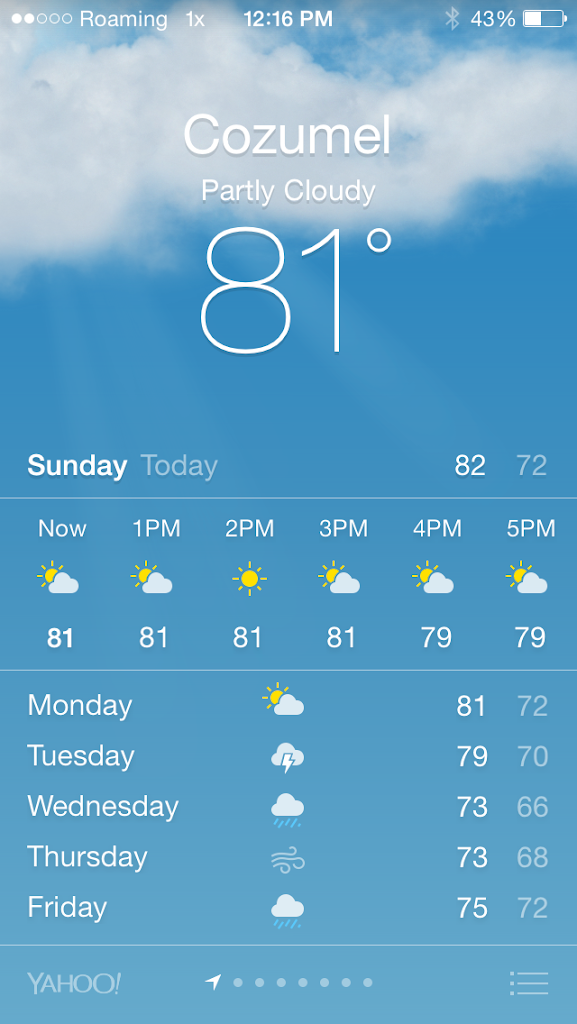 The temperature upon arrival. A nice balance to the 12 degrees I had in Columbus earlier in the week!
We had dinner last night at a local taco joint and it was excellent, then Mexican ice cream after for dessert. This morning we got up early to drive to the other side of the island so we could catch the sunrise at 6:01am.
There were only a few other people on the beach with the same intention; they're behind Jon under those huts.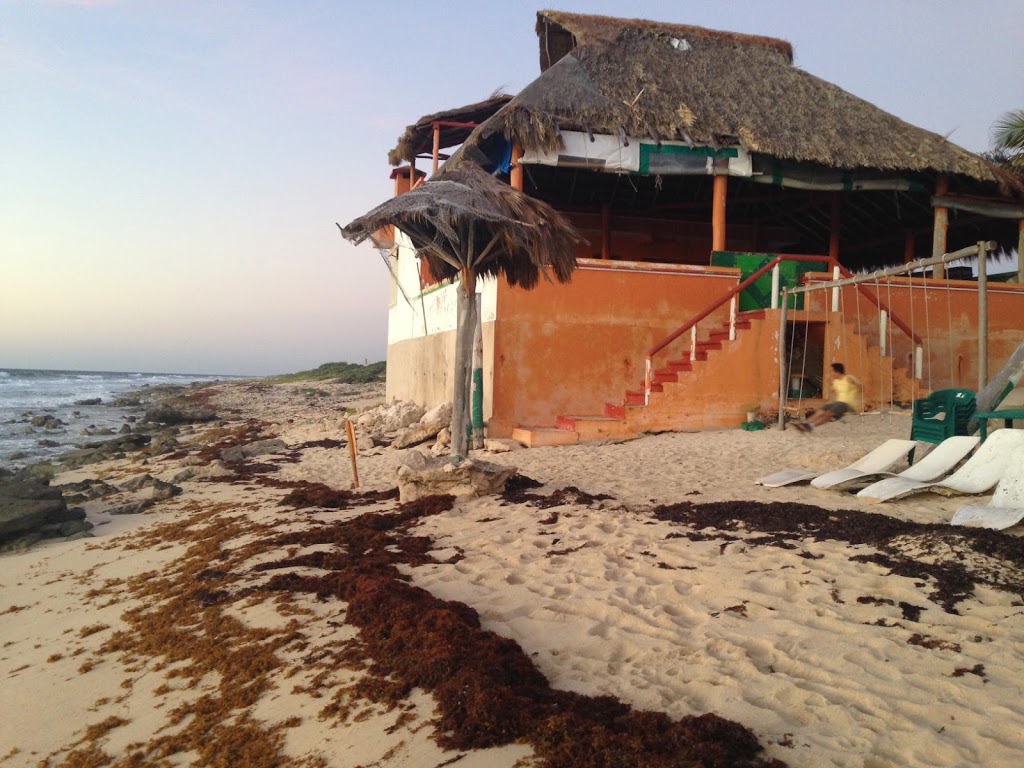 No one on the other side of the beach at all. We were near a restaurant that wasn't open yet, but Dan found its swings, see far right and below.
We had breakfast here, a little eatery in an open market. I had the pozole. Dan and Jon both tried it; we all agreed it was probably the best we've ever had. Dan had a chicken and veggie stew with a little habanero on the side!, and Jon had what I'd describe as a breakfast tostada – eggs, beans, cheese on a flat crunchy corn tortilla.
The natives have a very distinct look about them: short bodies (Dan says he feels tall here!), round faces, sharp features, sometimes exaggerated – like really big eyes or really wide smiles. Almost caricatures. Jon says its the influence of the Mayan genetics; this side of Mexico looks very different from the western side which has more Spanish blood in them – taller, lighter skin, green eyes, etc.
After breakfast we came here for a lazy rest of the day. Were here from roughly 10am – 3pm. The water was beautiful, even Dan went in finally and did a little snorkeling. Neither of us are big beach people; one day was enough :) If Jon hadn't moved here, I'm not sure it would have ever occurred to us to come.
The best part of that location was, being a resort that receives lots of visitors from cruise ships, it had ample things to do – including para-sailing, something I'd hoped to be able to do while here but hadn't really done anything about it. We just lucked into it. We learned at the last minute Jon could go on the boat with me (Dan had stayed back on the beach thinking neither of them would be able to) so away we went, and he got some decent pictures.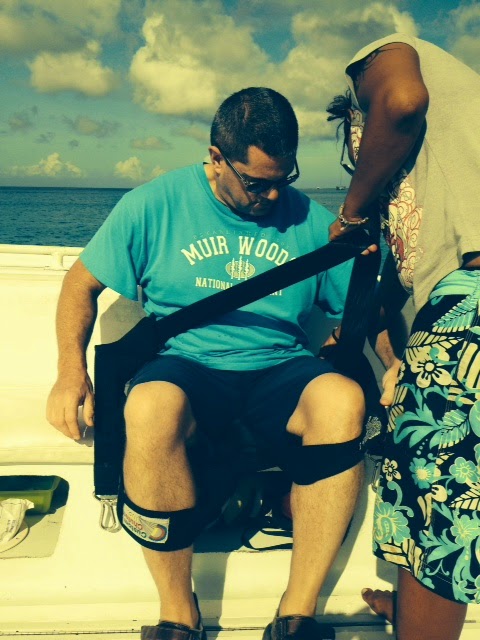 This guy has been doing this for 20 years. He did not prepare me at all for what was about to happen, just started strapping things on me.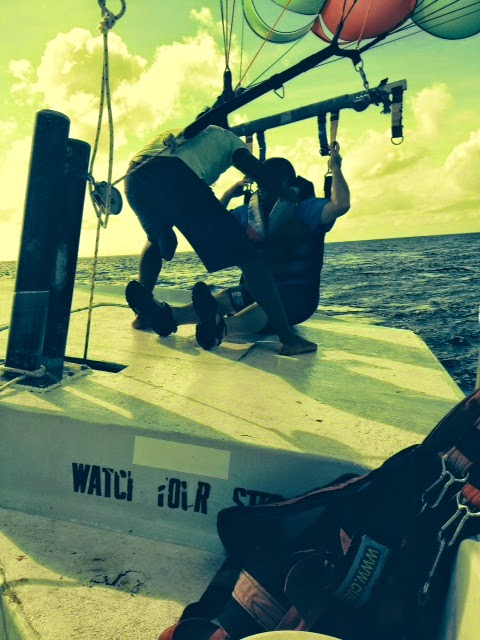 "Sit all the way down" he says. Shortly after this my ass begins to hang off the side of the boat and I ask "Is this really supposed to be happening?" Or something to that effect. He just laughs and flaps his arms like a bird. "Relax and fly!" he says.
And away I go….
Flying low…
…higher….
That you can't see me gives you a clue how high up that is. I forgot to ask him how long the line was. But I was clearly higher than the 10 story buildings on the beach. We're guessing about 200 feet.
It is very quiet up there. It got pretty windy and choppy at times but didn't feel unsafe. Mostly it was peaceful, just sort of floating, and of course stunning views of the Sea and the island. Definitely recommend it.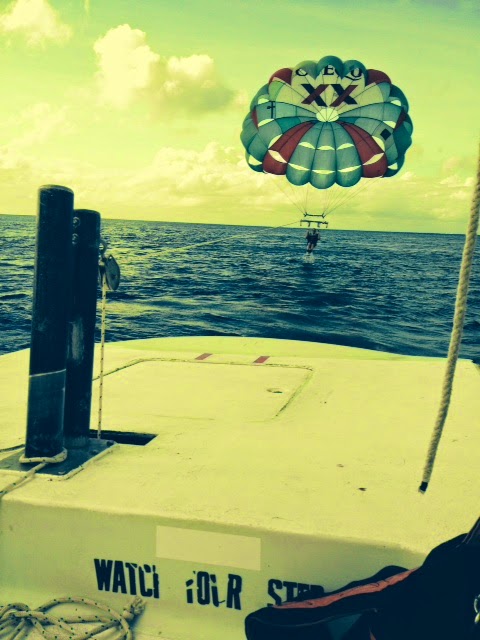 The touch down at the end included a nice little dip.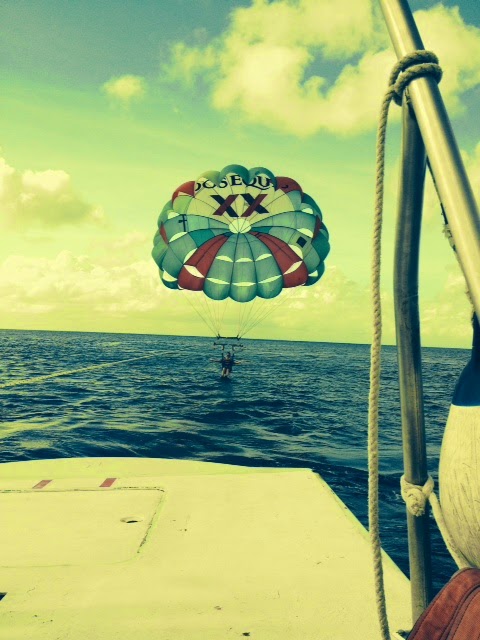 Three dips in the water in fact. I enjoyed that more than I thought I would. And I was thankful for the life vest!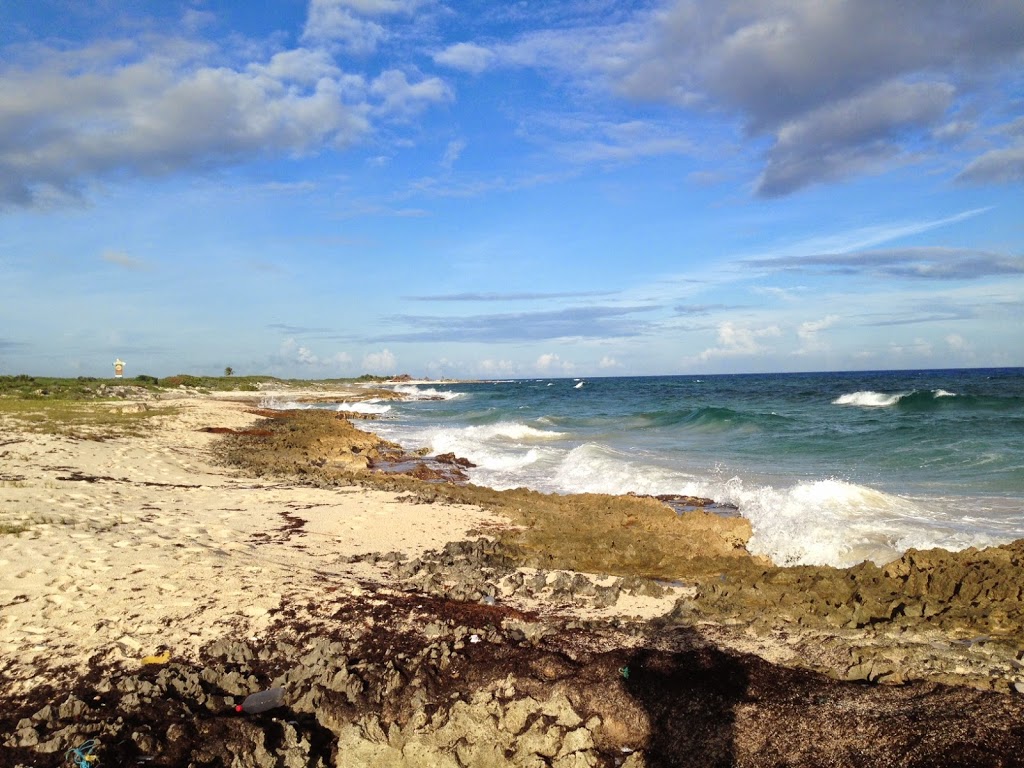 We took a drive around the island after that. This a bit farther down where we were this morning for sunrise, on the east side of the island. Waves are very choppy, beach very rocky. Very different from the resort side. Big areas of this are completely undeveloped. Across the highway from us is very thick jungle.
We stopped back in town for a two taco snack from a taco truck. And I don't mean like you're used to at home – I mean a literal pickup truck with a camper, some tupperware and a heating apparatus. It was good. Hot sauce was habanero again. I stayed away from it. Dan didn't. And loved it while being in pain.
We came back to Jon's to rest a bit. And we needed it. I think everyone took a micro nap. Headed out again about 7:30. Had dinner at another local joint. Jon learned his lesson after taking Dan to someplace sorta touristy on Saturday, and has sought out the authentic stuff from there on out. Jon got a quesadilla, and it was different still from those I had ordered at the last two places. Each of mine were different and clearly intended to be appetizers; this was a full on meal, easily 3-4x the size of what we'd seen so far. I got huaraches, Dan got chalupas. All good. (OK, so I'm fascinated that Google's spell check recognized huaraches but not chalupa!)
It looks empty but it was pretty crowded by the time we left. We were the only gringos in the place, always a good sign.
On the wall behind us.
Dessert was at the same little ice cream chain we went to last night. A different location for me, but Jon and Dan came to this one Saturday night.
And that's a wrap. It was a full day and we have an early start again tomorrow.
Enter your email address to subscribe to my blog, which will provide notifications of new posts. Soon after you enter your email address below, you will receive one to confirm your subscription. Check your spam/junk folder if you don't see it.