Yesterday, Tuesday, felt like a really long day because by the time we got back to our hotel I was beat, pretty much went straight to bed and slept 8.5 hours, very rare for me. Hence, no blog update yesterday.
We got an early start again, leaving Jon's place around 6:15am and walking to the Cozumel port area to catch the ferry, a little over a mile away. Destination: Playa Del Carmen.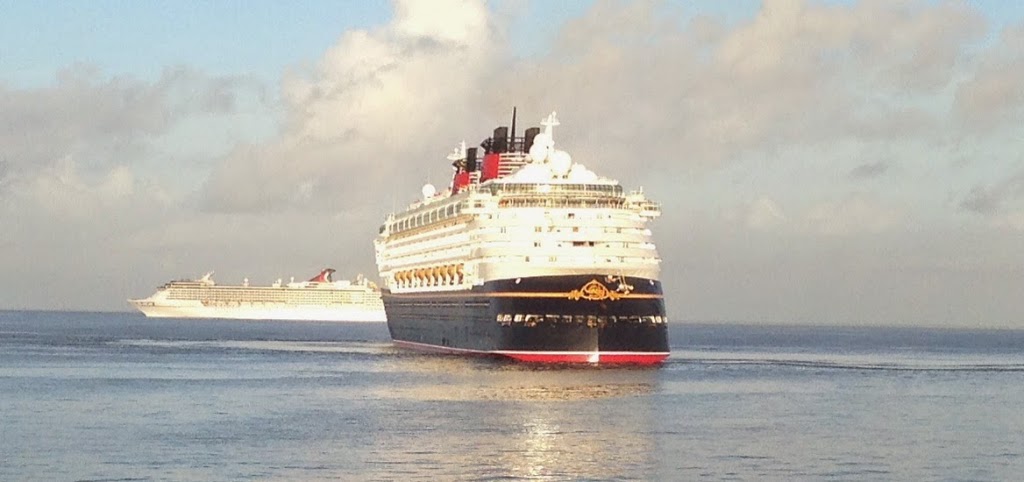 The Disney cruise ship in front was in the process of turning around. There were about 5 cruise ships coming into the port at around 7am. That's a bunch of tourists headed into Cozumel for the day.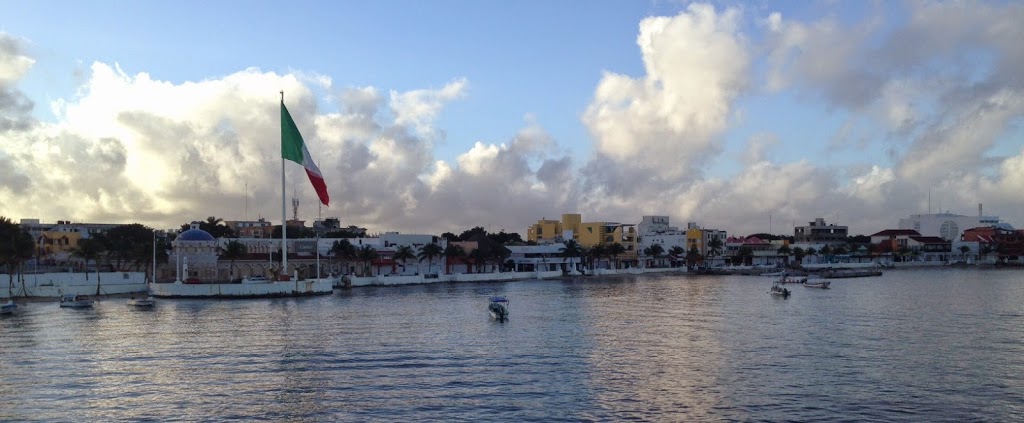 Looking back on the port area from the ferry. Love the huge Mexican flag.
We sat on the 2nd level in the open air section of the back of the ferry. You can barely see me (just back of my head in the green shirt) and Jon (profile sitting in front of me) about the middle of the picture.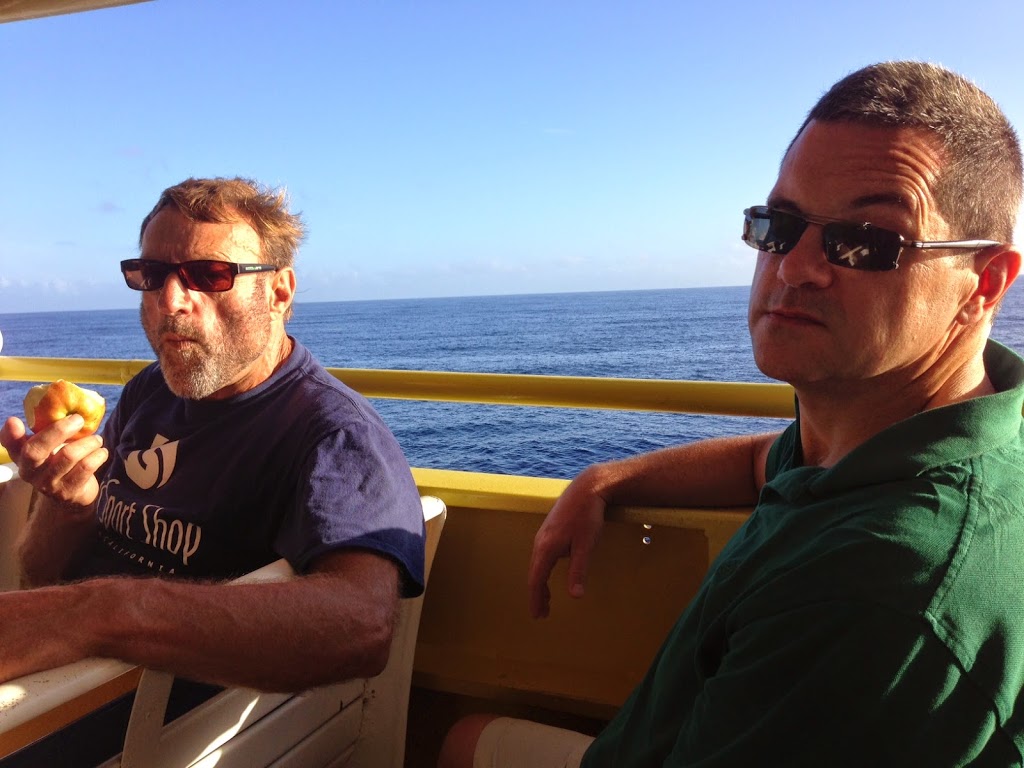 We were unprepared. Thanks, Dan!
All there was to look at in the 40 minute crossing.

Playa Del Carmen from the ferry.
Playa Del Carmen started out as a fishing village but once the ferries to Cozumel were put in, tourism became its major industry. Founded just in 1937, it's now almost 150,000 people.
Sculpture at a park on the beach. The rings represent a ball game that we learned about at Chichen Itza later.
We rented a car at Playa and drove about 3 hours to our hotel, Mayaland. Yucatan is one of five Mexican states (along with 5 other countries) where the Mayan civilization lived from about 3000BC to 1500AD. There are many, many references to the Mayans in this area. As we were driving from Playa headed to Cancun before we turned into the mainland, we passed resort after resort. The Caribbean side of the Yucatan Peninsula is referred to as the Mayan Riviera.
For some reason I've been surprised to learn that much of Mexico – as least this part of it – is covered in jungle. I can't say I've ever been in one before. It's a very different experience – sights, sounds and overall feel – from being in a forest or merely woods. The Mayaland Hotel is essentially in a jungle, just cleared out enough for habitation.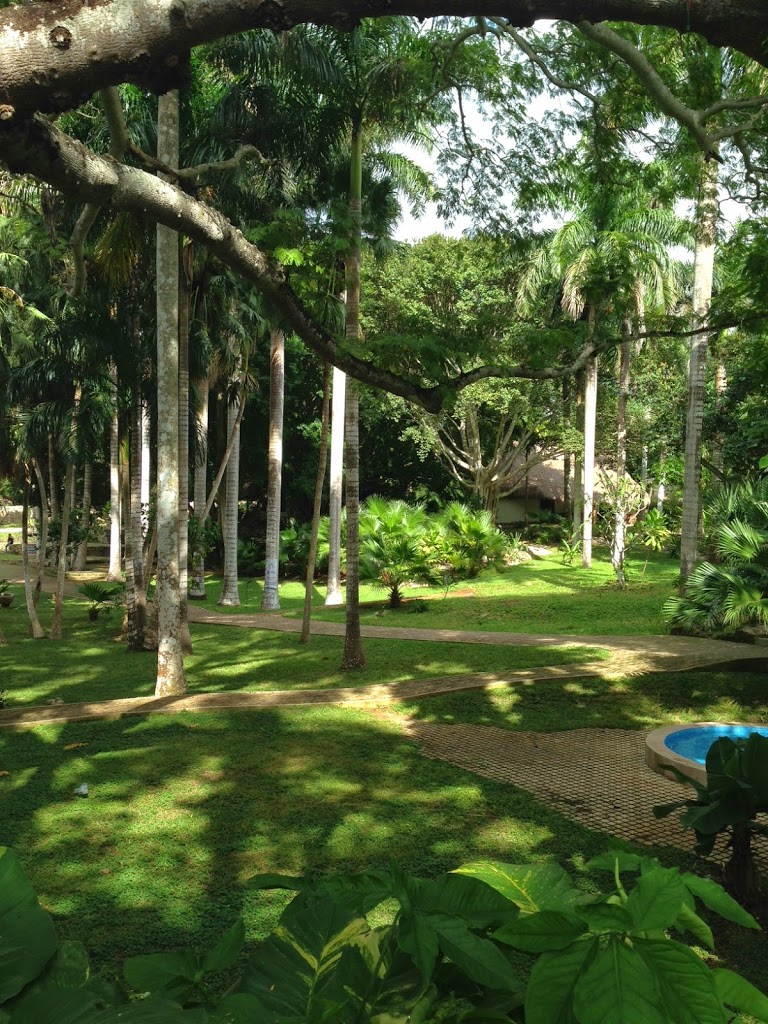 A portion of the back yard of the hotel.
Looking back at the hotel from the back. Our rooms were on the 3rd floor.
That's Dan on the 2nd floor outside hallway. The balcony to our room is just above him.
We checked in and dropped off our things, and headed to the town of Vallodolid for lunch. This town is known for its longanisa so Jon and I both had that, and it was excellent. We had a leisurely lunch and walked around town a bit.
When we were at the corner up by the church, we saw 3 army pickup trucks pass, all painted in green camouflage, with machine guns mounted on the cabs and soldiers standing behind them in the beds of the trucks. Just driving through town. Certainly not a sight you see every day. We thought it best not to take a picture.

That green building in the back is essentially a food court. We sought refuge there in the early evening – first just to get some coffee, but as we were sitting there a huge thunderstorm struck. It was a great place to watch the lighting over the park and the church and listen to the thunder and the heavy rain.
We headed back up the same road we'd come from to check out a cenote. (se-note) I had never heard of this before but Jon and Dan were very excited about the prospect, although neither of them had been either. We discovered over the next couple of days this area has a ton of them. Essentially a cenote is an underground cave that collects rain water, and are popular places to swim, and even snorkel and dive in. We went to one called X'keken. We had understood it would be lit, but it wasn't – although we could see the lights at first, they just weren't turned on. So we used the flashlights on our phones to make our way down. This first picture I took with the flash of my phone so that's as good as it gets, but figured it would get the point across. It was a beautiful cavern with a hole in the top that let light in. There was a literal busload of teenage girls down there, too, so it was kinda crowded and loud what with all their screaming for the sake of screaming :) But we braved the water anyway – a little cold at first but you got used to it. There were lots of catfish in the water, and lots of bats flying around up top. The place smelled of bat guano.
At one point all of the girls left at once and suddenly it was just the 3 of us. Amazing. It was so quiet, and the water so peaceful, we couldn't believe we had the whole thing to ourselves. It was an incredible experience. Then, out of nowhere the lights came on. One of the workers came down to start closing up. We asked why the lights were off in the first place but it was a confusing answer – we believe it was related to government budget cuts. It did allow us to get a better picture where you can clearly see you are in a cavern.
We went back to Vallavolid after this and that's when we got caught in the storm. Eventually that let up and we went out for dinner. We had gone back to this place we first stopped at for lunch, but they only had the buffet going at the time, he told us the dinner menu took effect at 5pm and we should return after 5. We got there about 7 – they were closed already, at 6:30! We couldn't believe it. Maybe they thought no one would go out in the rain? It was just very odd. But Dan talked to the hostess about where to go that tourists wouldn't normally go, and she made a recommendation that we ended up really liking. We had a nice dinner (something, something, tortillas, chips, habanero sauce, something something) and got back to the hotel after 9pm.
Today was Chichen Itza. More about that tomorrow!
Enter your email address to subscribe to my blog, which will provide notifications of new posts. Soon after you enter your email address below, you will receive one to confirm your subscription. Check your spam/junk folder if you don't see it.