The year got off to a very busy start. The nature of my job started shifting quickly as a project I'd begun in November 2017 started to take off.  It's in the area of organizational development – org design, leadership development, succession planning – and much needed since this 40 year old company has never done any of it. So as not to bore all those that aren't HR geeks, I'll leave it at that. But it's exciting stuff and I find myself working a lot of hours without resentment!, which is what happens when work and play start to blend. A few weeks ago my boss said something like "I don't think I've seen you this engaged and happy in this job since you've been here" and in response I said "this is the work I thought I was coming here to do, you just weren't ready for it; it's an HR person's wet dream." So as I enter my 4th year with this company, I'm finally very happy with the direction it's all headed in, in no small part due to a bunch of heavy lifting I did the first two years, with traction starting to take last year. So I'm excited to see where I can drive this thing.
Enough of that. If you followed us at Christmas time, you know that we were in limbo somewhat with Dan's job and that hasn't really changed. Assuming the Bayer acquisition of Monsanto goes through, he will become an employee of BASF shortly after. The date keeps getting pushed back and we're now looking at mid-to-late April. Among other things, it makes it difficult to do any travel planning. I started to accrue more vacation time at the beginning of last year and have been managing my time off carefully around holidays, so have accrued enough to be able to do some traveling on my own. Many of you know Jon Scott (I know this for a fact since he shares the most number of "mutual friends" on Facebook at 129) and that he moved to Puerto Vallarta a few years ago. Dan and I visited him at Thanksgiving 2014 when he was living in Cozumel, and he moved to PV the following year. Dan has been to PV before and had no real desire to go back. I've been itching to travel anywhere and that sounded like a good trip to make without Dan since he's grounded for a little while. So here I go: 4 days in PV without much planned other than spending time with Jon and doing some things on my own. I'm not really much of a beach or water person so I really don't know what I'm going to do there yet and I really don't care. That many unstructured days in a row is pure heaven to me. People literally gasp when they see my calendar on my phone it's so crazy full all the time. Especially after putting in lots of hours already this year, I'm ready for some down time.
And it's gotten off to a very relaxing start. I had a 6am flight out of Sac to PHX. I could have chosen a connecting flight that left within an hour of my scheduled landing but those make me nervous. Plus, I knew I would have lounge access so chose the 4 hour layover instead. And it worked out because I just finished a work call I needed to do with my boss that was better not to put off which I wouldn't have been able to do otherwise. Dan flew so much last year he earned an upgrade in his status with British Airways that was big enough to include me, allowing me access to the lounge even if I'm not traveling with him. Thanks, honey :) He loves checking out different lounges so I took some photos along the way.
This was the first lounge I stopped at, very close to the gate where I landed. My flight wasn't even on the board yet so I asked the woman who checked me in if there was a gate assignment. Yes, A8, and there's another lounge that's nicer than this one right above it if you want to head there now, she said. But I didn't really – wanted to decompress from the bustle of my 3:30am alarm and all that followed. So I used the restroom there – so much nicer than the plane or the ones on the concourse! – and got my fill of coffee since I had very little this morning. The photo above and below were taken from where I was sitting, along the window at a high counter with plenty of plugs. It's a small lounge – what you see is it.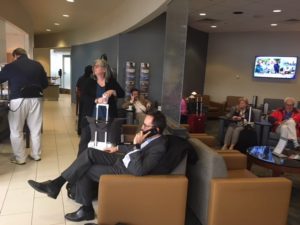 They had 3 kinds of fresh berries so I got some of that with some yogurt, and an English muffin after.
I had a call scheduled for 10am with my boss so was going to take it here, until I realized I'd forgotten about the time change and it would be 11am my time, so after an hour I packed up and went to the other lounge.
She was right. It's bigger and nicer. The shot above is taken from the seat where I stationed myself for the duration. Below is what it looked like when it was empty except me – people come and go, there are just 2 others here now. I'm sitting in the right corner next to my carryon which you see below.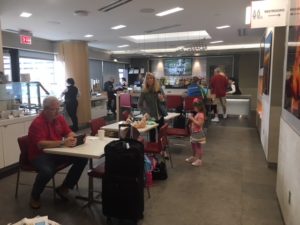 It's 4-5x the size of the other lounge, with a better food selection. I just finished a small cup off artichoke chicken Florentine soup – it was pretty tasty.
And plenty of amenities for the business traveler, including a copy machine. This was a little room off the side of the entrance. Plugs everywhere which is always the best. Below is similar to the prior lounge, just more of it.
Still about 2 hours before I board. I completed all the setup for the blog on my laptop which I did while listening to some relaxing music on Pandora. What's next? Started watching "This is Us" last night for the first time to see what all the hullaballoo is about, but feel asleep before I even finished the first episode. So probably that.
It's Noon now (Mountain). Will be back this evening after I settle in.
———————-
It's now 9:15pm PV time – Central. The flight out of Phoenix was delayed about 45 minutes but otherwise a smooth trip.
The countryside is beautiful and I enjoyed the views while landing. I love the low clouds in the mountains just right of center. The screen shot below shows the temperature when I landed. And that's about what the forecast is while I'm here, too: lows in mid-60s', highs in mid-80's, and no rain. Kinda perfect.
Jon picked me up from the airport and took me by the hotel I'm staying at to check in and drop my stuff off.
Hotel522 is a 4 story building in the Centro neighborhood. This area above is the top floor terrace. The terrace in the photo below is just outside my room on 3 and is where breakfast will be served.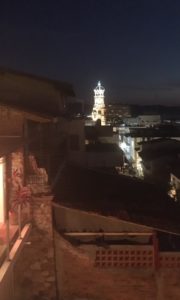 The church as seen from the first terrace photo above. I'll check this out tomorrow.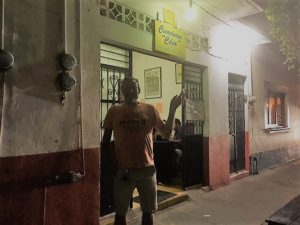 Jon stopped at an ATM for me and we went to dinner at he place he's been going for 20 years. He lived here from 1997-2002, moved back in August of 2015, and visited some in between.  It was cheap, casual, good food. Just what I needed.

The chips and salsa were amazing.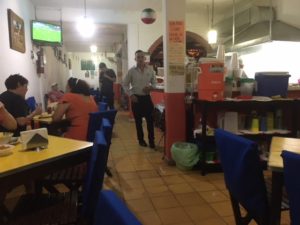 There were a few tables behind me towards the entrance but mostly this was the whole place.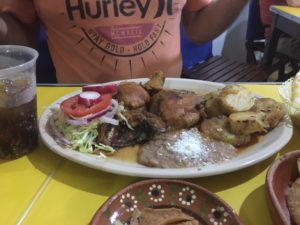 Jon had a chicken dish, above; I had beef enchiladas, below.

We had a nice visit over dinner. We haven't seen each other in person since Labor Day when he was in Sacramento, although we've Skyped several times since and text in between via Words With Friends. We made plans to get together tomorrow evening. I'm going to make up the day heading into that as I go along.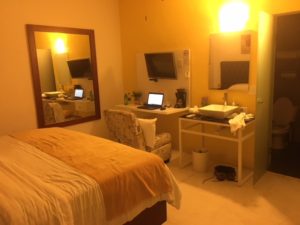 The room small but is very functional and just what I need.
I'm pretty tired. Even though it's only 7:30pm Pacific time I'm probably going to hit the bed as soon as I take a shower to wash the travel off of me. Been a long day, but I'm excited to be here.
PS: I did finish the pilot of "This is Us" in the lounge. I'll admit I'm intrigued….
Enter your email address to subscribe to my blog, which will provide notifications of new posts. Soon after you enter your email address below, you will receive one to confirm your subscription. Check your spam/junk folder if you don't see it.