No Oxford Part 2 we decided. Dan was over it by the time we woke up. We thought about all the options of returning and none of them were good. The parking situation was horrible, and even the bus didn't offer any guarantees; we'd noticed lines of people at bus stops yesterday, having to wait for multiple buses to pass to get on one. So we looked for other things to do between Oxford and Heathrow and came up with a couple of towns that turned into winners. The English Heritage website makes it pretty easy. You can find out what's near you so that's what we did.
We stayed at a new Hampton Inn in Oxford, a few miles from the center of everything. It was only about a year old and was quite modern, especially with regards to easy access to electrical and USB outlets both in the room and in the restaurant. The crowd this morning at breakfast was quite diverse and seemed to be mostly travelers.
[The above was written in the Heathrow lounge. I'm now in NYC. It's about 10:45pm ET; hoping to get this done before I crash. I've been up since 1:30am ET so we'll see how this goes…]
We set out about 9am. Our first stop was Abingdon, about 15 minutes away. There was a County Hall from the 1600s there that was associated with English Heritage so we decided we'd check it out along with the town, which turned out to be adorable. And the locals were incredibly friendly and helpful. We were impressed with how proud they were of their little town on the Thames.
Above: Trinity Church on the left, we parked down the street to your right, shown below. What we didn't realize until the gal at the Visitor Center flinched when we told her where we parked was that it was private property. If you look closely in the center of the photo you can see a sign at the corner that pretty much says that as you approach from the other side: don't park beyond this point. We didn't notice it until we returned, and were worried then because of her reaction. But we lucked out: the car was there and no ticket.
But the houses in this area were adorable. They called them early Victorian, which probably puts them about 1840's.
A local who saw us taking photos directed us St. Helen's church, and to go a little further and see the river as we were walking around. This is the Thames, above and below; you'll see it again in the stop we did after Abingdon. It was a Thames kind of day.
This is St. Helen's. Dates back to the 1200's with some updates through the 1600's. There were some school girls practicing for graduation and someone who was helping them showed us around a little.
Above: the side chapel off to the left of the front entrance. Next two photos below are to the right of you as you enter, then what's in front of you. It's an odd layout.
She took us to this chapel which she was very proud of. The ceiling depicts Old Testament prophets in contemporary dress. Contemporary again being relative, and in this case 1300's. She said it's the ceiling that got this church into someone's "1000 greatest churches" book; I didn't catch the author but I think it's this. 
They were also very proud of their almshouses, of which this church had three. The one above dates back to 1446. We'd never heard of them before, but almshouses are community based charitable housing that allows those who can't afford regular rents to pay what they can afford and stay in the community.
Most of the MGs in the world were made at a factory in Abindgon.
We went up to the roof with Shirley (named after Shirley Temple!) and she had lots of details to share. One of the traditions in this town is for buns to be thrown from this roof by royalty when they come to visit, into the people gathered in the square to the left of this photo. Queen Elizabeth had the honors in the 1950s. Seriously. To the right in this photo are the remains of an old Abbey where we went next.
There are a few remnants of buildings from the Abbey, but mostly all that's left is the gardens. The statue of Queen Victoria below used to be in the square across from the County Hall, but they moved it to keep it from getting damaged (by the bun crazy crowds maybe?).
A few walls of the Abbey left here and there. It was destroyed in the 1500's by Henry VIII.
We left there about 11:20 and had an hour drive to Windsor. Windsor Castle had been an option on this trip from the earliest stages of planning, if nothing else because it's like 15 minutes from Heathrow. But it was pricey to get in – 20 pounds per person – and the reviews were mixed. Still, how often do you get a chance to see where the current Queen lives? We compromised and decided on the town, and would just see the castle from the outside.
The town itself was actually not great. Very touristy as you can imagine. It's got a lot of history; Windsor Castle itself dates back to the 1100's and has been the royal home on and off over the centuries. And this is the Windsor of Shakespeare's Merry Wives of Windsor. We stayed about an hour and a half and that was enough.
But the castle is amazing. It's by far the biggest we've ever seen. It goes on for blocks as you walk up High Street. And there's Victoria again. She lived here as well. And if you're wondering where Buckingham Palace fits into all of this: Buckingham is their London home, and the place of official business. Windsor is for weekends.
Also on High Street is St. John the Baptist. There's been a church here since the days of Henry I when he moved the royal castle from "Old Windsor" to this one around 1100. This version is pretty new – 1880's. But I loved the welcome sign they had on the sidewalk and at the top of the steps, below. "This church welcome people of all faiths and people of none; all races, all genders, all sexualities, all disabilities, all nationalities. All are welcome in this place of prayer."
The nave as you enter above, and looking back below. I wanted to get the painting of the Last Supper in context first.
They are very proud of this. Painted in 1660 by Francis de Cleyn. It used to hang in St. George's Chapel, which is the chapel within walls of Windsor Castle. It's been restored and repaired from damage several times but still manages to look pretty good.
Close-up of the altar at St. John's.
This tavern – The Two Brewers – has been here since 1791. We passed it on the way to the Windsor Great Park.
And there was really only one thing I wanted to see in the Great Park: The Long Walk. That's what this is called. I couldn't find a reference for just now long it is but you get a good idea from the above. Windsor Great Park covers 2020 hectares, or about 5000 acres.
We were never this close. I put my hands through the gates and zoomed the shot from my phone. And below is Dan taking a photo of me taking these photos.
The weather was warm so we walked some in the shade, then went back to the Long Walk.
I love this photo.
From there we went back into the town. But everywhere you look, you see the castle. It's unavoidable.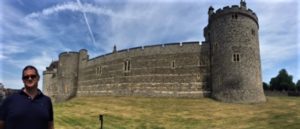 Finally, no castle. We walked along the Thames for a bit before heading back to the car.
This is the Diamond Jubilee Fountain, celebrating Queen Elizabeth II's 75th.
We found a restroom in a shopping center and I decided to take a photo of the famous English sinks. So wrong. You can tell how modern a building is by the faucets. This one, not so much. Can you tell what's wrong with it?
Our strategy of making our last stop close to Heathrow worked. We made it from the parking lot in Windsor to the lounge in about 45 minutes. And that included dropping off the car. British Airways started a special security line for First Class passengers (which we were not) and Gold Members (which Dan is) that literally dumps you right into the lounge. It was pretty sweet I have to admit.
Dan ate a variety of things from the buffet line; I had a chicken cauliflower curry dish off the menu that was pretty tasty.
Enter your email address to subscribe to my blog, which will provide notifications of new posts. Soon after you enter your email address below, you will receive one to confirm your subscription. Check your spam/junk folder if you don't see it.